Making Fruit Pies and Crumbles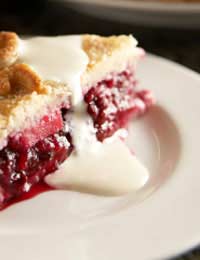 What's wrong with a little comfort food on a cold, dark, winter evening? Absolutely nothing (especially if it includes colourful fruits and hot custard or fresh cream.) Winter was made for puddings.
Crumble Topping
A few minutes-and the following ingredients-are all you need to make a simple tasty topping for the seasonal fruits you fancy. Serves 4-6 people.
175g plain flour
75g margarine
50g caster sugar
12g Demerara sugar
Just sift the flour into a mixing bowl and add the diced margarine. Rub the two ingredients together with your fingertips until all the margarine has been mixed in thoroughly. Next, add the caster sugar and stir it in well.
This combination is now ready to spoon onto your chosen fruit. Once the topping mixture has been spread over the fruit, press it down firmly with the back of a spoon and then sprinkle the Demerara sugar on top before baking the pudding.
Fruit Crumble
Suggestions for fruit fillings; firm dessert or cooking apples/pears (peeled and cored) gooseberries (washed, topped and tailed) nectarines (peeled and stone removed) peaches (peeled and stone removed) plums (washed and stone removed) rhubarb stalks (washed and trimmed.)
450g fruit
crumble topping
custard or cream to serve
Prepare the fruit according to type then arrange it in a pie dish. Either sprinkle with a little sugar and add a couple of tablespoons of water, or use 2 tablespoons of fruit juice to sweeten the fruit and provide a little extra moisture.
Bake the prepared fruit crumble in a preheated oven (200C) for about 45 minutes. Check that the fruit is soft and the topping looks crunchy and golden before serving with custard or cream.
Apple Pie
700g cooking apples, peeled and cored
225g short crust pastry
75g Demerara sugar
milk (for glazing the pastry)
Cut the apples into chunky slices and arrange half of them around a pie funnel in a pie dish. Sprinkle the sugar over the apples, before adding the remaining half to the dish, with 2 tablespoons of water.
Next, roll out the prepared pastry and cover the pie with it-use pastry trimmings to decorate the top of the pie. Brush the pastry with milk and make a small slit in the centre of the pie to let steam out.
Bake the pie on a baking tray in the centre of a preheated oven (200C) for 30-40 minutes.
For variation, add a teaspoon of dried cinnamon, 3 or 4 whole cloves, grated rind of an orange and a few knobs of butter to the apples before covering with pastry. (Remember the cloves are in there though!)
Cherry Tart
Canned black cherries are OK to use for this recipe as long as they are well drained.
450g cherries, stones removed
100g icing sugar
2 eggs
75g ground almonds
few drops of almond essence
225g prepared short crust pastry
Use the prepared pastry to line a 24cm fluted flan ring then bake 'blind' in a preheated oven (200C) for about 15 minutes. Remove from the oven and turn down the temperature to 170C.
Arrange the cherries evenly in the pastry case.
Next, mix the sugar, eggs and almonds together in a bowl and add a few drops of almond essence, then pour this mixture over the cherries and return the dish to the oven for about 1 hour. The top should look firm and golden after this time.
Serve this immediately with custard or cream or leave it to cool and eat it cold with whipped cream.
You might also like...
i makecrumble with corncorn flakes i make them into crumbs and the whole thing taste nice
vin
- 17-Dec-19 @ 11:39 PM