Cooking with Winter Vegetables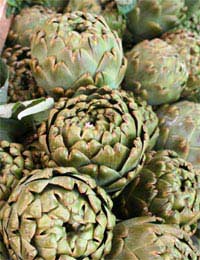 Fresh from the ground to the kitchen, winter vegetables offer us a diverse and tasty range of nutritious wonders.
Artichokes
These odd-looking tubers, that grow in distorted masses, are available from October to March.
The crisp white flesh beneath the white or purple skin is sweet and delicious in creamed soup, fried in butter, or served with sprouts and crispy bacon as an accompaniment to roast chicken or turkey.
Fried Jerusalem Artichokes
450g Jerusalem artichokes
2 tablespoons breadcrumbs
1 egg, beaten
lemon juice
Oil or butter for frying
Salt to season and chopped parsley to garnish
Peel the artichokes and drop them into a bowl of salted water with about a tablespoon of lemon juice added as you finish each one; this prevents discolouration of the vegetable.
Remove from water/lemon juice and cook the artichokes in boiling water until they are tender-about 10 minutes. Drain well and cut large artichokes into slices but leave small ones whole. Next, dip them into the beaten egg then the breadcrumbs until they are evenly covered.
Heat the oil or butter in a frying pan and cook the artichokes until they turn a golden brown. Drain on absorbent paper and serve them on a heated dish with chopped parsley.
Brussels Sprouts with Soured Cream
700g sprouts
150ml double cream
Half a lemon
1 teaspoon grated nutmeg
Prepare the sprouts by washing and removing the outer leaves if they are bedraggled or discoloured then boil them in a saucepan of salted water, for no more than 5 minutes, so they are tender but not soggy. Drain them well.
Stir juice of half a lemon and the nutmeg into the cream.
Return the drained sprouts to the dry saucepan over moderate heat. Keep the sprouts moving in the pan-to absorb any moisture left in them-until they are quite dry. Now add the cream mixture and make sure all the sprouts are covered. Heat through for about 1 minute then serve.
Cabbages and Spring Greens
Different colours and shapes, the winter varieties are available from August to April. Look for firm, crisp-looking heads (centres) clean stalks and good colour. Avoid greens that look slimy or that have wilting outer leaves and holes in them. Remember that the health benefits of fresh greens outweigh the possible side-effect of flatulence!
Stuffed Cabbage
Preheat the oven to 180C.
225g cooked minced beef/chicken or ham
2 young cabbages with centres removed (cored)
2 tablespoons chopped parsley
2 tablespoons sage and onion stuffing
2 finely chopped onions
2 tablespoons olive oil
200g tin chopped tomatoes
1 egg, beaten
Heat the oil in a pan and fry the onions until soft then add the minced meat, parsley and stuffing, mix with the tinned tomatoes and season with salt and pepper. Simmer the mixture for about 5 minutes then bind together with the beaten egg.
Divide the mixture between the hollows in the cabbages and press it in firmly. Wrap the stuffed cabbages tightly in tin foil and bake in a pre-heated oven for about 30 minutes. Serve with homemade tomato sauce and baked potatoes.
Parsnips, Turnips and Swede; the 'neeps'!
These versatile root vegetables can be used together to provide a chunky base for winter casseroles, stews and pot roasts. Look for firm but not woody vegetables and avoid using any that have brown spots or holes and those that look spongy or withered.
Parsnips or swede can be used boiled and mashed, with plenty of butter and black pepper, in place of potato for a change; as pie toppings, for example. Turnips can be cooked with potatoes then mashed together with some chopped chives as a vegetable accompaniment with a difference. Parsnips roasted like potatoes are good too and thinly sliced turnips cooked with bacon (about 30 minutes in a pan over moderate heat with 50g butter) then sprinkled with parsley are delicious.
Layers of sliced and chopped onions, carrots, leeks, parsnips, swede, turnips and mushrooms, cooked together in a casserole with 300ml stock, a handful of chopped fresh herbs, seasoning and a topping of breadcrumbs with grated cheese make a wonderful combination. Serve alone (takes about 45 minutes in 180C oven) or with cold meats.
More Winter Vegetables
Before this consumer lifestyle evolved our diets were dictated by the seasons and soil conditions. Recipes were made to use all available seasonal foods. As a result of the easy purchase of frozen vegetables, some of the more traditional fare has become neglected. Leeks, onions and shallots continue to be used regularly though!
The following is a list of some more vegetables that are grown for the winter months.
Kohl Rabi, July-April
Kale, November-May
Sea Kale Beet, August-March
Salsify, October-May
Sweet Potatoes
Okra, December-June
Celeriac, October-March
You might also like...