Summer Vegetables: Salads and Cold Soups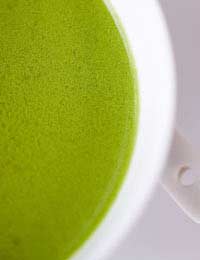 Cold soups and hearty salads can make summer catering an easy option. Our recipes use the best ingredients in new combinations to add zest to cold meals.
Courgette Chilled Soup
While gazpacho is seen as the classic cold soup for summer, this courgette soup makes a delicious and simple alternative which works brilliantly when the weather is hot. Serves four.
Ingredients
2 tablespoons olive oil
1 chopped white onion
1 kilo courgettes chopped but not peeled
½ teaspoon dried mint or a small handful of fresh mint – roughly chopped with four sprigs reserved for decoration
1 litre vegetable stock
4 tablespoons single cream
Method
Heat the oil in a large saucepan and fry the onion gently for about five minutes until soft and translucent before adding the courgettes and the mint. Stir well to blend and then cover the pan and cook for around ten minutes on a gentle heat so that the courgettes become soft.
Now pour in the stock, stirring to ensure none of the vegetables stick to the bottom of the pan and bring it to the boil before lowering the heat again to a gentle simmer and cooking covered for a further twenty minutes.
Remove from the heat and allow to cool a little before liquidising. Pour it into a bowl, cover and chill overnight.
To serve this soup, taste it and season well – because it is served very chilled it will need quite a lot of seasoning. Then chill some soup-plates and serve with a spoonful of cream in the middle of each serving, and a sprig of mint placed in the cream.
Radish and Ricotta Salad With Mint
In many cases, a salad is only as good as its dressing, but this salad offers enough variety in texture, taste and sensation to be served with only a very simple dressing. In fact, anything more complex would mask the delicious ingredients, so keep the dressing simple. Serves four.
Ingredients
1 large cucumber
1 large bunch of radishes
6 spring onions
300 grams ricotta cheese
A handful of fresh mint
A handful of fresh parsley
A good pinch of garlic flavoured salt
Fruity (rather than mild) olive oil
Red wine vinegar
Method
Using a potato peeler, take off the coarse skin from the cucumber so that it is smooth and pale, then cut it in half longitudinally and scrape out the seeds. Slice the long halves again into two or four, depending on the fatness of your cucumber and then chop into short dice shapes.
Wash the radishes thoroughly to remove any grit and then cut off the tops and tails. Cut small radishes in half and large ones in quarters and add to the cucumber.
Wash the spring onions and trim back any green areas that are tough looking. Take of the root ends and then slice the remainder into thin rings.
Crumble the cheese with your fingers and sprinkle it with the garlic flavoured salt - this will draw out the whey in the cheese. Tear the mint and parsley with your fingers and mix with the cheese, and then toss that mixture with the rest of the ingredients, pouring in the leftover whey as this will blend with the dressing ingredients.
Drizzle a little olive oil and red wine vinegar over the finished salad and leave to blend for about fifteen minutes before pouring the whole dish into a salad bowl to serve.
You might also like...