Filled Vegetables With Dips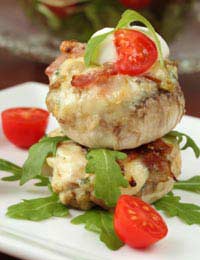 There's nothing like a healthy vegetable lunch or snack that also tastes great. Stuffed vegetables taste good and do you good, and served with a couple of simple but delicious dips, you have fast food that your stomach will thank you for eating. Add a pack of poppadoms or a wholemeal chappatis to make this simple lunch into a more substantial meal. This recipe serves four for lunch or twelve as part of a buffet with salad accompaniment.
Vegetables
12 or more large mushrooms, peeled with stems removed
6 ripe plum tomatoes, cut in half lengthways and with pulp and seeds carefully removed with a teaspoon so as not to break the skin - sprinkle the interior of the tomatoes with salt and turn them upside down for ten minutes to drain some of the juice.
Olive oil
Filling For Mushrooms
100 grams fresh white bread crumbs
1 teaspoon oregano
1 teaspoon capers or gherkins, finely chopped
2 teaspoon fresh parsley, finely chopped
30 grams freshly grated Parmigiano-Reggiano
2 tablespoons olive oil
Mix all the filling ingredients in a large bowl with a wooden spoon so that they begin to form a solid mass. With your fingertips, mound the stuffing onto the mushrooms, pressing it firmly together. Place on a lightly greased baking tray and drizzle with a little olive oil before grating a little black pepper over the top. Bake in 350° or Gas 4 oven for 20 to 25 minutes.
Filling For Tomatoes
75 grams fresh ricotta cheese
50 grams grated Parmesan cheese
50 grams chopped black olives
1 finely chopped spring onion
1 tablespoon chopped fresh basil
1 tablespoon olive oil
Place the cheeses in a bowl with the olives, the oil and basil and blend well. Spoon into the tomatoes and sprinkle with a little paprika. Place them gently in a greased baking pan, and drizzle with a few drops of olive oil. Bake in 350° or Gas 4 oven for 20 to 25 minutes.
Hot And Creamy Dip
200 grams softened cream cheese
1 tin chopped, peeled tomatoes
1 fresh jalapeno pepper, seeded and finely chopped or half a teaspoon of dried chilli flakes
In a food processor or using an electric hand blender, combine the cheese and the tomatoes until smooth. Add the chilli and blend well. Perform a taste test to ensure it's not too hot and if it is, add some Greek yoghurt, a teaspoonful at a time, checking again with each addition until the tasty is spicy rather than overpowering.
Hummus
400 gram tin of chickpeas
3 tablespoons olive oil
1 tablespoon lemon juice
1 crushed clove garlic
Quarter teaspoon cumin
Rinse the chickpeas in cold water. Tip into a colander and shake well to remove excess water before pouring into a food processor or blender and adding the olive oil, lemon juice, garlic and cumin. Blend together and taste, to check the flavour balance, if it is too acid add some more oil, if it is too bland, add a little salt and then some more cumin. A dip that's too thick can be thinned with some hot water to take down the consistency a little. Chill the hummus until you're ready to serve.
Serve the vegetables hot or cold with accompanying dips and breads as desired.
You might also like...