Quick Lunches: Crisps and Savoury Nibbles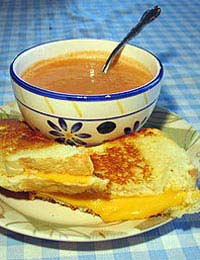 Lunchtime nibbles with a crunch are just the thing for those days when you and yours fancy something a little different; without going to too much trouble with preparation.The snack suggestions in this article can be made with minimum effort, fuss and expense, but have plenty of appeal for the midday munchies.
Homemade crisps look, smell and taste so different to packet crisps and you know what's in them! Just about any root vegetable can be made into crisps, so try a few experimental ones with vegetables that you like and add seasoning to taste-cayenne pepper, curry powder, you name it. Serve them with open sandwiches or dips, soup, and a little salad for a quick and tasty snack lunch.
Vegetable Crisps
Try a combination of these vegetables, or more of just one type, according to personal taste and what's in your vegetable rack. To keep it really simple, cook batches of one vegetable at a time. (Once cooked, all these veggie crisps will keep in an airtight container for a few days.)
1 medium to large potato
1 sweet potato
1 small butternut squash
2 medium parsnips
2 carrots
2 cooked beetroot
Method
Preheat oven and baking sheet/tray to 200C.Wash and peel whichever vegetables you choose to make your crisps with. If using potatoes, it is advisable to rinse them thoroughly in cold water,after peeling, to make them less starchy. Pat the prepared vegetables dry with kitchen paper.
Slice the vegetables to a thickness of about 2mm maximum for the best results. Use a mandolin slice if you have one.Pat the sliced vegetables dry a second time. If you fancy adding some cayenne pepper, sea salt, or other dry seasoning, the easiest way to do this is to pop the vegetable slices into a sandwich bag with about a teaspoonful of your chosen seasoning and give it a good shake.
Drizzle with olive oil-approximately half a teaspoonful per vegetable should suffice. This can be done in a bowl or sandwich bag.Place the slices in a single layer on the pre-heated baking sheet and cook for 5-6 minutes, or until they look cooked and golden colour (potatoes will need a few more minutes and beetroot will keep its lovely deep colour.)Remove from the oven and gently transfer the cooked slices to a wire rack. Leave them to cool and crisp. Serve when ready or store in an airtight container for 2-3 days.Alternatively, the vegetable slices may be pan or deep-fried at 180C for about 2 minutes, but that rather defeats the object!
Toasties (With a Difference)
If you're really pushed for time, but under pressure to produce a quick meal, try these grilled snacks.
Ingredients for 4
2 Panini, 1 French stick, or any crusty bread of your choice
Sliced salami, ham, garlic sausage or other cooked meat
Slices of cheddar, goat cheese or mozzarella
1 onion, finely grated
Method
First grill the outside of the bread for 2-3 minutes (more if you like it crispy)Layer the soft, inside, of the bread with meat cheese and onion (finish with a layer of cheese)Grill until hot and the cheese begins to ooze and bubble.
Serve immediately with cherry tomatoes, fresh figs and a salad garnish.Another very useful standby in the quick lunch department; frozen wraps and pitta breads. These can be cooked from frozen and filled with your favourite things.Buy ready-made wraps or pitta breads and serve with a selection of fillings.
Quick and Tasty:
Sausage and onion with salsa or barbeque sauce.
Tuna and sweetcorn with cayenne-seasoned mayo and salad.
Cheese, celery and apple, with a dressing of crème fraiche or natural yoghurt.
These are just a few suggestions that can be adapted to suit your palette and patience!
You might also like...