Homemade Soups for Starters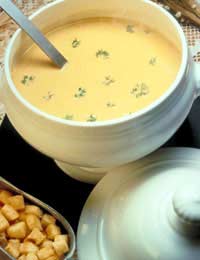 Home-Made Soups for Starters
Soup has so much going for it! It can be made with just about anything, is economical because nothing is wasted in the kitchen, the smell of home-made soup as it bubbles on the stove is reassuring and appealing-and the finished dish is surely one of the most satisfying results of cooking at home.
What is Soup?
Soups were once used to fill up hungry tummies with cheaper ingredients and so save using all the more expensive, main, dish. For some though it was the only meal. During Victorian times the soup kitchens became desperately needed sources for the poor.
Soup is a liquid food. Vegetables, meat, fish and pulses are all suitable ingredients for different soups. One of the major factors in soup-making is the quality of the liquid used.
There are many variations of the following types of soup.
Thick soups-starchy, creamy and filling!
Thin soups-clear, usually with one main ingredient. Elegant and light appetiser served hot or chilled.
Broths-semi-clear and often a by-product of a main course.
Puree soups-sieved or liquidised, often vegetable.
Soup is an extremely versatile dish-with a variation to suit just about every palate and occasion-that can be served as a starter or as a meal. Garnishes vary from chopped herbs to cheese, croutons, pasta and dumplings.
Soup Ingredients
Stocks and sauces made with vegetables, meat, fish and game are covered in other articles on this site, but their importance as a base for good soup cannot be over-emphasised. There are ready-made stocks available, that are useful in emergencies, but they don't have the same flavour or body as a good home-made stock. Beware of over-seasoning if you use these.
One key tip for economical soup is to make it with ingredients that are plentiful (local and in season) and therefore less costly. If you grow tomatoes or have a vegetable plot, use the surplus or imperfect-looking produce to make your stock and soup. This recipe for home-made tomato soup makes a good starter for 6 people and uses up any surplus home-grown tomatoes.
Ingredients
1 onion, peeled and finely chopped
450g approximately of ripe tomatoes, skinned, de-seeded and chopped
1200 ml (about 2 pints) white stock
25g butter
75g long grain rice
Salt and pepper
Bouquet garni
Cook the onion in the butter over a low heat-preferably in a heavy-based pan. When the onion looks transparent and before it browns, add the chopped tomato flesh and season with salt and pepper. Gradually stir in the white stock and rice, add the bouquet garni and bring the soup up to boiling point. Cover the pan with a lid and reduce the heat to simmer the soup gently for 15-20 minutes, making sure the rice is tender.
Remove the bouquet garni. Now rub the soup puree through a sieve-this ensures there are no tomato seeds left in the liquid, but you can whizz it through the blender if you fancy a
This soup can be served straight away as it is or with a garnish of shredded basil leaves and a chunk of warm bread. A small bowl of grated cheese makes a tasty accompaniment. For extra kick, add a dash of chilli sauce. If you want to add cream or egg yolks to this soup, do so by ladling a little of the hot soup into a bowl of the cream or eggs, to bring them up to temperature first, then blend them together and return to the soup pot to help avoid curdling. Simmer gently and stir-without the soup reaching boiling point.
This is a no-nonsense soup that can be dressed up if you wish. It makes a simple supper dish for children, too.
You might also like...