How to Make a Simple Broth.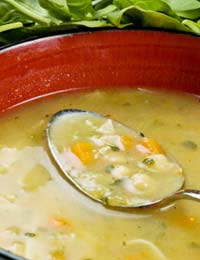 How to Make a Simple Broth
Broths are semi-clear soups with the addition of meat, fish or vegetables and starchier ingredients such as rice, noodles or barley. These soups are simple to prepare. As well as the traditional Scotch broth, there are some great innovative combinations to try out; crab and egg noodle, ham and lentil pottage, red mullet with fennel. As always with learning to cook-use what you like to eat! All these suggestions can be modified to suit your tastes and preferred diets; they are simply guidelines of how to put it all together. Adapt and explore...
Scotch Broth
Nourishing, filling and oh so warming! Traditionally made with beef, although mutton was sometimes used and the broth known as 'Hotch Potch' which is apparently a favourite of curlers (they play the Scottish game of sliding stones to hit a target on the ice) on cold, frosty days.
Ingredients to serve 6
700g shin of beef or neck of mutton-chopped to a manageable size
225g each of leeks ,turnips and carrots, washed, peeled and chopped
1 onion peeled and chopped
50g pearl barley
2.5 litres (approximately) water
Salt and pepper to season
Chopped parsley to garnish
Place the meat pieces and bones into a large pot and cover with the water, season with salt and pepper. Bring to the boil, skim off any surface scum, add the barley then simmer ingredients for 30 minutes. Now add the vegetables and simmer for another 30-40 minutes-until all the vegetables are soft. Skim off scum again if necessary.
Remove the meat bones and strip off any meat left on them and add this to the pot, but discard the bones now. Stir and taste. Add more salt and pepper if required. Sprinkle the chopped parsley onto the broth and it is ready to serve-great with fresh crusty bread.
Egg Noodle & Crab Broth for 4 people
This variation of broth is a little lighter than the above recipe, takes less time to make, but is filling and nutritious.
Ingredients to serve 4
1.2 litres chicken (or vegetable)stock
1 small bunch of spring onions, washed and finely sliced
1stick celery, washed and finely sliced
2 small carrots, washed and finely sliced lengthways (make sure it fits in the bowl of your soup spoon!)
1 small tin crab meat or 115g fresh or frozen crab (defrosted)
4 tablespoons white wine
75g fine egg noodles
25g butter
Season to taste with a pinch or two of celery salt and cayenne pepper and a few drops of lemon juice; use parsley or coriander to garnish.
Cook the egg noodles according to instructions on the packet then cool under running water and leave immersed in cold water.
Melt the butter in a large pan and gently fry the vegetables for about 5 minutes, or until soft but not brown. Pour in the stock and white wine then stir the ingredients together as you bring the broth, gently, to the boil. Reduce heat and allow to simmer for 5 minutes more.
Drain the noodles well. Add noodles and crab meat to the broth, season with celery salt and cayenne pepper, if used, and the lemon juice. Garnish and serve.
For another variation, or If you don't fancy using crab meat, try making this broth with fish stock instead and omit the crab completely. Add 2 skinned, de-seeded and chopped tomatoes to the melted butter with the other vegetables; for extra colour. When the broth is simmering for the final 5 minutes, grill one red mullet fillet per person, then pop one on top of each serving of broth.
You might also like...
Does anyone have scotch broth recipe for a soup maker. Many thanks...
joshua10
- 5-Jan-15 @ 12:29 PM
Learn to cook? Good idea! Trouble is, I can't progress any further than the simple scotch broth. Why? My wife loves it and won't let me make anything else! I don't mind though because I like it too, and eventually she will tire of it, then I can further my career as a master-chef. (Albeit, with your help of course!). Many thanks for getting me started.
Mr Oddjob
- 21-Jul-12 @ 10:49 PM