How to Cook a Simple Romantic Dinner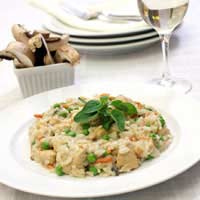 When you create your own romantic dinner sexy simplicity works much better than a time-consuming, complicated meal that leaves one of you stuck in the kitchen...Romance means spending time together, doesn't it? It's not very romantic if one half is frantically trying to prepare a special menu, while the other half is wondering what to do-and gets fed up with waiting.
Cooking together is creative, fun and can strengthen established bonds, but, there will be occasions when you'll want to prepare a romantic dinner as a surprise treat for your amore too! Do you have a new love to impress? Flirt, but don't frighten!
Whoever you're cooking for keep these tips in mind: prepare the food with love, include a little excitement and surprise on the menu, have pride (and a sense of humour) in your self-expression. The following suggestions provide tempting tastes and textures-with a combination of stimulating colours and heavenly aromas-for you to woo and wow with. If you're feeling fed up, just cook one for yourself anyway; it's great therapy.
Grilled Mussels-a Subtle Starter
4-6 mussels each (Buy green-shelled if you can.)
1 tablespoon fresh chopped parsley
1 tablespoon fresh chopped coriander
1 garlic clove, crushed
Pinch of ground cumin
25g brown breadcrumbs
Squeeze of lemon juice
25g softened butter
Wash and scrub the mussels, remove any weedy-looking 'beards'. Halve the mussels and discard the empty half shells.Combine parsley, coriander and cumin with the butter in a mixing bowl and beat together with a wooden spoon. Next, add the breadcrumbs, lemon juice and a twist of black pepper.
Spoon the mixture onto the mussels in their shells and grill under a pre-heated grill for 2-3 minutes. When cooked, serve the mussels in their shells, garnished with a few coriander leaves and eat with your fingers.
Smoked Salmon Spaghetti
250g buckwheat spaghetti
1 tablespoon olive oil
2 tablespoons chopped coriander
100g smoked salmon, cut into thin strips
150ml double cream
75ml brandy
Pinch of cayenne pepper
First, cook the spaghetti until tender but still firm. Drain thoroughly then return it to the pan. Add the olive oil, shake and cover to keep warm.Heat the cream and brandy in two separate pans without allowing either to boil. Combine contents of both pans and add the strips of salmon.
Season to taste with cayenne and black pepper. Stir in some chopped coriander. Transfer the spaghetti to a warm serving dish and add the smoked salmon, cream and brandy sauce. Use two large forks to mix it all together. Sprinkle a little more chopped coriander on top. Serve straight away.(If you fancy, add some halved black olives and crumbled feta cheese just before serving.)
Devilled Kidneys
4 lamb's kidneys
Half a tablespoon mustard powder
1 teaspoon Worcestershire sauce
25g butter
2 slices hot toast
Skin and halve the kidneys, remove the white core completely.Mix together the mustard powder and Worcestershire sauce.Melt the butter in a saucepan over moderate heat. Add the kidneys and quickly brown them all over then reduce the heat, season with sea salt and a twist of black pepper. Cover with a lid and cook gently for about 5-6 minutes.
Next, add the mustard mixture to the pan stir well and continue to cook slowly for 2 minutes.Serve the cooked kidneys, coated with the mustard/Worcestershire sauce mixture, on hot toast.
Mushroom Risotto
1 tablespoon olive oil
1 small red onion, chopped
1 garlic clove, crushed
Few threads of saffron
100g mixed mushrooms such as-oyster, button, chanterelle, porcini
175g risotto rice, rinsed in sieve under cold tap
1 glass dry white wine
350-400ml hot vegetable stock
Grated parmesan, thyme, salt and pepper.
Heat the olive oil in a large frying pan. Add the chopped onion and garlic-cook gently for about 4 minutes.Add the wiped mushrooms to the softened onion and cook for another 3 minutes. (Any large mushrooms should be sliced.)Next, add the rice and saffron, stir well.
Slowly add the stock and white wine. Stir in each addition until the rice absorbs the liquid. The rice should take about 15 minutes to cook. Test by tasting! If the rice is still firm and crunchy, add more liquid and cook for a little longer.When cooked, add 1 tablespoon chopped fresh thyme, about 80g grated Parmesan cheese and salt and black pepper to taste.Transfer to warmed serving plate and grate a little more Parmesan on top before serving.
A light, colourful, fresh fruit salad or fruity mousse, served with fresh cream will finish your meal nicely. Alternatively, a bowl of rinsed strawberries dunked in melted chocolate may appeal!Set the scene as best you can. It doesn't have to be champagne and roses; with the right person, daisy chains and a flask of tea are romantic...
You might also like...