Pasta Bakes for Meat Eaters and Vegetarians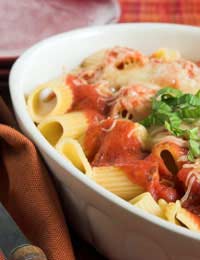 Pasta bakes are ideal meals for busy families, they are simple to prepare, tasty and because they are cooked in a single dish, easy to wash up afterwards.
Rich Vegan Pasta Bake
This delicious bake serves four as a dinner or six as a lunch.
Ingredients
6 tablespoons olive oil
1 peeled and roughly chopped red onion
1 aubergine chopped
1 red pepper deseeded and chopped
2 courgettes chopped
1 tin of chopped plum tomatoes
2 garlic cloves, crushed
1 large bunch basil
250 grams dried penne pasta shapes
Seasoning and dried mixed herbs
Method
Preheat the oven to 190°C or Gas 5.
Put 4 tablespoons of oil in a large roasting dish and pour in the onion, aubergine, pepper and courgettes. Season well, stir to cover with oil and bake for thirty minutes, shaking half-way through the cooking time.
Pour the crushed garlic, tomatoes and dried herbs into the dish, stirring well to combine with the vegetables then return to the oven while you cook the pasta for two minutes less than the stated cooking time and drain it, keeping several spoonfuls of water to mix with the pasta into the vegetables.
Bake together for a further ten minutes or until the pasta is cooked through. Stir in the basil, sprinkle with a little brown sugar to bring out the flavour of the tomatoes and serve. This is good with some crusty bread or a salad that contains olives and lemon juice to add to the Mediterranean richness of the pasta bake's flavours.
Alternatives
Non-vegans may like to sprinkle the top of the bake with some grated cheese and grill for a minute to give a savoury crusty topping to the bake.
Tasty Bacon Pasta Bake
Most meaty pasta bakes use beef, but this pasta bake is fully of the rich flavours of bacon along with a healthy dose of vegetables to make it an ideally balanced one pot meal. Serves four.
Ingredients
200 grams dried pasta shapes – farfalle are particularly good as are elbow macaroni
300 grams bacon chops or 300 grams smoked streaky bacon
400 gram tin chopped tomatoes
225 grams frozen peas
50 grams soft white breadcrumbs
75g grams grated Cheddar or Edam cheese
Seasoning: hot pepper or chilli sauce, 1 tablespoon chopped fresh oregano or 1 teaspoon dried oregano, pepper.
Method
Preheat the oven to 200°C or Gas Mark 6.
Using a large pan of salted water, cook the pasta until al dente then drain and set aside
Grill the bacon chops for 3 minutes on each side and cut into dice, or lightly grill the sliced bacon until cooked but still soft, cut into smaller slices, about fork sized.
In a large bowl or jug, mixed the tinned tomatoes with the hot sauce and oregano and some grated black pepper, then layer in a greased ovenproof dish with the pasta bacon and frozen peas. Mix breadcrumbs and cheese and sprinkle over the top.
Bake for twenty-five minutes until topping is golden brown. Because bacon is naturally salty, you shouldn't need extra salt in this recipe. Serve with salad.
You might also like...