Cooking Cod, Haddock and Other White Fish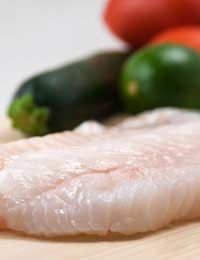 When choosing fresh fish, check for firm flesh, shiny eyes, bright red gills and a clean smell. Fillets and smaller cuts that look watery or loose-textured are best avoided.
General Cooking Guidelines

Baking a trout-sized fish at 180C takes 20-30 minutes
Baking fillets takes 15-20 minutes
Allow 10 minutes per 2.5cm thickness of fish when cooking on the hob
Cod is an elongated, large, round-bodied fish that can weigh up to around 34 kilos! The most popular cuts of cod are steaks and fillets, which are suitable for poaching, grilling and baking. Although the fish is widely available, October to April is considered the best time to eat fresh cod.
From the same family as cod, haddock is also available all year round, but considered best November to February. It is sold whole, in fillets and steaks, also smoked. (Very yellow haddock may contain artificial colouring.)
Coley, hake, halibut, pollack, turbot or whiting may be used as satisfactory alternatives in these recipes (except in the omelette.) Whiting has a much finer texture than the other fish so deteriorates more quickly.
Serving Suggestions for Cod, Haddock and Other White Fish
Ingredients for Fish with a Crunchy Thatch. Serves 4. Preheat oven to 200C.
1 skinned cod fillet (approximately 115g) per person
2 tablespoons chopped parsley
2 sprigs rosemary, stalks removed
50g wholemeal breadcrumbs
25g chopped walnuts
2 tablespoons walnut or olive oil
Juice and rind of 2 lemons
1 small red chilli, diced (optional as small chillies are hot)
Salt and pepper to season
Place the fillets in a wide ovenproof dish.
Mix all the other ingredients together in a bowl.
Spoon the breadcrumb mixture over the fish and press it down to pack it firmly. Pour any juice left in the bowl over the mixture. Bake in pre-heated oven for about 20 minutes or until topping is crispy. Serve immediately.
Ingredients for Cod in Creamy Celery Sauce
1 cod steak per person
50g Lancashire cheese, crumbled
3 sticks of celery, washed and chopped
25g butter
25g plain flour
225ml fresh milk
75ml fresh double cream
half a teaspoon dried thyme
1 tablespoon lemon juice
salt and pepper to season and a sprig of fresh parsley to garnish
Sprinkle lemon juice over the fish steaks and a shake of salt and pepper. Place on a baking sheet under a (moderate)pre-heated grill for about 12-15 minutes until cooked.
Meanwhile, melt the butter in a pan. Fry the celery until it softens. Stir the flour into the pan with the celery and cook gently for 1 minute then remove from the heat and add the milk and cream, slowly. Stir thoroughly then return to the heat and continue to stir until the sauce thickens.
Now add the dried thyme, another shake of salt and pepper and half the crumbled cheese. Stir.
Pour the sauce over the hot fish steaks and sprinkle the remaining cheese on top. Return to grill until the cheese bubbles and begins to brown slightly. Serve with the parsley and a selection of vegetables.
Haddock Omelette for 2
100g smoked haddock skinless fillets
50g butter
150ml fresh double cream
50g grated cheddar cheese
3 eggs, separated
Salt and pepper to season
Place the fish in a saucepan and pour in enough cold water to cover it. Bring to the boil then simmer for about 8 minutes. Drain. Flake the fillets and check there are no bones.
Now put the fish in another pan with half the butter and 2 tablespoons of the cream. Over a moderate to high heat, toss the fish in the butter and cream, then remove from heat and leave to cool.
In a large bowl, beat the yolks with 1 tablespoon of cream. Season with salt and pepper. Add the fish mixture to the beaten yolks. Whisk the egg whites separately until they form peaks then fold into the fish/yolk mixture.
Heat the rest of the butter in an omelette pan and fry the egg/fish mixture-it should remain soft in texture. Slide it onto a serving dish that can be used under the grill.
Blend the cheese and remaining cream together. Spoon this on top of the omelette and pop it under a hot grill until it bubbles and the omelette turns a golden brown on top.
Other White Fish
Flat fish such as brill, dab, flounder, plaice, witch and both lemon and Dover sole, are usually sold whole or in fillets. Larger flat fish, like halibut and turbot, are often sold as steaks and only the wings of skate are sold. The smaller types are particularly good for grilling and sautéing while the larger ones can be poached and baked too.
You might also like...