What to Serve with Fish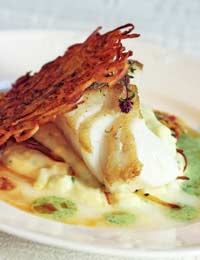 Something other than chips? Deciding what to serve with fish depends very much on what type of fish you choose to buy and how you cook and present it. There are sauces and standard preparations to accompany fish that have been cooked in different ways. Accompaniments and sauces should complement the fish-with their individual flavours, colours and textures-but remain subtle so as not to overpower the main ingredient.
Variations of White Sauce to Serve with Fish
A basic white sauce (veloute) can be used whenever a béchamel sauce is required in recipes. To add pizzazz to plain poached white fish, for example, a white sauce-with the addition of 2-3 tablespoons of cream, fresh, chopped parsley and a pinch of nutmeg-does the trick. A quick and simple transformation from pale and uninteresting! Serve this with green beans, garden peas and new potatoes and you will feel inspired.
For a sharper tang, add 1 tablespoon capers and 1 tablespoon of lemon juice to the white sauce.
Another variation to serve with poached or steamed fish is the addition of 1 hard-boiled egg and 2 tablespoons of chopped chives to the same basic sauce.
Butter sauce goes well with most fish-simply beat 1 egg yolk with 1 tablespoon of water and blend into the white sauce, then add 75g butter, cut into pieces and stir until thickened and thoroughly combined.
Aurora sauce is made with the addition of 4 tablespoons tomato puree and 35g cubed butter, blended into the white sauce. Gives a good rich colour.
Special Butters & Mayonnaise Sauces
Anchovy butter can be made very quickly by pounding 6 drained and rinsed anchovy fillets and adding them to 125g butter. Lovely with grilled fish steaks.
Crab butter consists of 125g crab meat, pounded together with 125g butter. It can be served with grilled fish or used as an addition to other sauces.
Blanch (boil rapidly for about 2 minutes)and drain 8 tablespoons of fresh chives then chop them finely and pound to a paste, then combine with 125g butter and serve with grilled fish. Gives a fresh tang to oily fish like mackerel.
The simple addition of grated rind and juice of half a lemon to butter provides a zingy finish for grilled fish. Combine this with 2 tablespoons wholegrain mustard and some chopped parsley for something extra special. Alternatively, use half an orange and cayenne pepper; this is particularly good with sea bream, served with baked potatoes. Garnish with watercress and mixed salad leaves. Another variation is to mix the butter with 25g fresh coriander and the juice and rind of 1 lime.
Spicy mayonnaise brings a wow factor to homemade fish cakes and other grilled or fried fish as well as cold shellfish, salmon and fish/pasta salads. For a quick, easy (and ever so slightly cheating) spicy mayonnaise, add a couple of teaspoonfuls of cayenne pepper and a squirt of lemon juice to some decent readymade mayonnaise. (This is also great with cold chicken and turkey!) To make a proper version, mix 350ml of mayonnaise with 2 teaspoonfuls of wholegrain mustard, 1 teaspoon of Worcestershire sauce and a splat of Tabasco if you dare...
For a citrus mayonnaise, which goes particularly well with the more oily fish, fold grated rind of one orange and 1-2 tablespoons of whipped cream into the mayonnaise.
To make your own version of tartare sauce (and it tastes so much better!) simply mix 3 chopped gherkins, 1 teaspoon of chives, 2 teaspoons of capers and 1 tablespoon of double cream to 300ml of mayonnaise. It's so simple but so good-you'll never want stuff in a jar again.
Remoulade sauce is great with cold shellfish. Just add 1 teaspoon of chopped capers, chervil, gherkins, parsley, tarragon and onion to 300ml of mayonnaise. Stir in well and serve with crab, lobster, prawns, mussels, whelks, cockles, winkles or even oysters.
Side Dishes
These are a matter of personal taste. As a general guide, follow what you fancy! If you are making a huge fish stew, serve it with something that can soak up the juices without neutralising any flavour.
Fish cakes are delicious served with spicy mayonnaise and a green salad.
Mashed potato works well as a topping for fish pies served with fresh vegetables or a green salad.
Follow your instinct when cooking; be creative! Consider the flavours, textures and colours you enjoy and never be afraid to experiment. Touch the food, smell the food, share it with your friends and talk about it, but, most of all, enjoy it!
You might also like...