Cooking Seafood: Seafood Recipe Ideas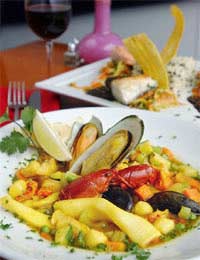 The term seafood refers to edible saltwater fish and shellfish. There are two main types of shellfish, those with jointed shells (crabs, lobsters, prawns) and molluscs (mussels, oysters, scallops.)
Shellfish should be bought fresh on the day they are going to be cooked as they do not keep.
(Cheats) Pronto Paella
Nothing like the real thing but this is a basic idea for a simple seafood dish to serve 4 without all the preparation! It can be adapted to suit personal preference and local availability of seafood instead of using frozen.
400g frozen packet of mixed seafood, defrosted
115g bag frozen tiger prawns, defrosted
750ml fish stock
225g paella (or Arborio) rice
1 de-seeded, chopped red pepper
115g chopped mushrooms
1 peeled sliced onion
2 cloves garlic, crushed
2 tablespoons olive oil
2 teaspoons ground turmeric
pinch of dried oregano
Heat the oil in a heavy based pan and fry the onion until it softens but does not brown. Add the pepper and mushrooms then the garlic and turmeric. Fry together for 2 minutes, stirring often to cook the ingredients evenly. Add the rice.
Pour the stock over the pan ingredients and stir. Season with salt and pepper then cover and leave to simmer over a low heat for 10 minutes or until the rice has absorbed most of the liquid. Top up with boiling water if necessary or add a glass of white wine.
Next, add the defrosted seafood mixture and defrosted prawns. (Remove any dark veins from the prawns before cooking.) Turn up the heat a little-to bring the mixture to the boil-then lower the heat again, cover with a lid and simmer for about 15 minutes or until the seafood is cooked. Serve immediately.
Lobster Pot
Half a cooked lobster per person
Serve with plain boiled rice, lemon wedges and fresh coriander
60ml olive oil
2 onions, peeled and finely chopped
1 clove garlic, crushed
1 green pepper, de-seeded and finely sliced
450g can chopped tomatoes
half a teaspoon ground ginger
1 tablespoon tomato puree
1 tablespoon shrimp paste
225g cooked prawns without shells
1 seeded and chopped green chilli (small red for a hotter sauce)
1 pint water
Heat the oil in a large flameproof pan and fry the onions, green pepper, ginger, tomatoes and tomato puree together until the onions are soft. Add the cooked prawns, fresh chilli and shrimp paste then stir all the ingredients together.
Pour in the cold water and season with salt and pepper (optional.) Bring to the boil then reduce heat and simmer the ingredients for 20 minutes. Don't cover the pan as you want the sauce to reduce during this stage. Taste and adjust seasoning if necessary.
Place the halved lobsters on top of the sauce and heat through for a few minutes then put one lobster half on each (heated)plate and pour sauce over lobster. Garnish with coriander and serve immediately with rice and lemon wedges.
Seafood Pizza
Make this as simple, or elaborate, as you fancy by using homemade pizza bases, readymade bases and different combinations of seafood. Preheat the oven to 200C.
400g frozen seafood cocktail, defrosted, or a combination of tinned or fresh seafood
tomato puree
olive oil
1 yellow pepper de-seeded and finely chopped
1 tablespoon capers
50g grated mozzarella cheese
2 tablespoons grated parmesan cheese
half a teaspoon each of dried oregano and dried marjoram
12 black olives
Prepare the pizza base according to instructions but make a rim around the edge with your fingers when you put the pizza base on a baking tray.
Spread tomato puree over the base, not quite to the edge.
Arrange the seafood, pepper and capers on top of the tomato base then sprinkle the herbs and cheese, with a shake of salt and pepper, on top of that. Dot with the olives and drizzle a little olive oil over.
Cook the pizza for about 15-20 minutes in the top half of a pre-heated oven then serve as soon as the pizza edges are crisp and golden.
Garlic Prawns
Allow 6 prawns per person for a snack and serve with chopped parsley, lemon wedges, crusty bread and a crisp salad.
24 large raw prawns in their shells
4 cloves garlic peeled and thinly sliced
4 tablespoons olive oil
6 tablespoons brandy
115g butter
Wash then pat dry the prawns. Melt the butter in a large frying pan with the oil, then, add garlic and prawns. Increase heat and cook for 3-4 minutes until prawns turn pink. Keep stirring during cooking.
Sprinkle the brandy evenly over the prawns, add salt and pepper, sprinkle with parsley. Ready to serve!
You might also like...