Cooking with Rice: Simple Dishes to Try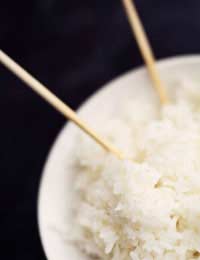 Cooking with Rice: Simple Dishes to Try
Rice forms the basic diet for many people around the world. Grown in America, the Far East and Mediterranean countries, it is a versatile nutritious grain.
Fried Rice
This makes a simple supper dish for 4 or a winter breakfast and can be adapted to suit what you have available in the fridge and store cupboard.
Ingredients
125g long grain rice (cooked or uncooked but should be washed and drained first)
4 rindless rashers bacon, chopped
1 onion, peeled and chopped
25g butter
chicken stock-400mls approximately
Salt and pepper
Fry the bacon in a frying pan over moderate heat. When the fat runs from the bacon add the butter. When the butter has melted, add the rice and onion and continue to fry for about 4 minutes, then, pour about half the stock over the mixture and cook gently until the rice has absorbed all the liquid. Stir and add more stock as necessary then simmer for about 20 minutes. The rice should soak up all the liquid. Add salt and pepper as required.
If you fancy serving this as a warming winter breakfast, try it with eggs! Beat 2 eggs and add them just before the dish is ready-the eggs will give a scrambled effect through the rice.
Rice and Cheese Croquettes
Ingredients to serve 4
225g long grain rice
125g grated cheese (Emmenthal's good)
1 litre chicken stock
2 eggs
125g fresh white breadcrumbs
25g butter-softened
lemon juice
Oil for frying and salt and pepper to season
Cook the washed and drained rice in chicken stock and add boiling water as necessary to prevent the rice from drying out. When cooked, drain the rice and rinse with boiling water, then put it in a mixing bowl and add the cheese and butter, salt and pepper and 1 beaten egg.
Now shape the rice and cheese mixture into 7.5cm long shapes, roll each one in the breadcrumbs, then dip into the other beaten egg. Roll them once more in the breadcrumbs. Refrigerate on a plate for about 1 hour while the croquettes set.
Cook the croquettes in pre-heated oil for about 4 minutes, when they should be brown and crispy. (Deep fryer is easiest.) Remove them from the pan and drain on absorbent kitchen paper. They are ready to serve.
Risotto Dishes
Ingredients for 4
225g Arborio rice
1 litre vegetable stock
2 tablespoons olive oil
2 onions, peeled and chopped
225g frozen chopped spinach
50g butter
3 tablespoons grated parmesan cheese
2 skinned and diced tomatoes or 1 small can chopped tomatoes
salt and pepper to season, parmesan cheese to serve
Warm the olive oil in a large frying pan and cook the onions until translucent. In a separate, larger pot, heat the vegetable stock to simmering point. Now add the rice to the onions and cook gently for a few minutes. Using a ladle, add the stock, a ladleful at a time and continue this process for about 20 minutes.
Add the spinach, tomatoes, 3 tablespoons of grated parmesan and the butter to the risotto mixture with a little salt and pepper. Stir and add more stock if needed. The rice should be tender but not sloppy. Serve.
Risotto dishes can be made with just about anything-fish, prawns, seasonal vegetables and minced leftover meat or strips of chicken. Risotto makes a substantial meal without costing a lot in time or effort.
You might also like...