Types of Pasta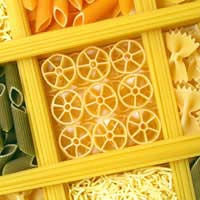 Types of Pasta
Pasta: the wonderfully versatile slow-release carbohydrate that gives even leftovers a sense of occasion. A simple cold pasta salad can provide a quick and healthy snack, or, for combined social and culinary satisfaction, share a pasta feast with friends and family. Bueno appetite.
Benefits of Pasta
Athletes around the world eat pasta! The starches in this simple food are broken down slowly by the body and used as an energy store; perfect fuel for endurance runners. Whole-wheat pasta provides more energy and protein than the dried white pasta and is a source of fibre and thiamine (B vitamin that helps to convert carbohydrates into energy.)
Prepared with sauces made from tomatoes and other fresh vegetables, pasta can be part of a healthy balanced diet; but pasta is often mixed with cream, butter and cheese in recipes. That is when the dish becomes fattening!
Dried pasta keeps well and is a must for the store cupboard. It can provide a base for numerous main meals, side dishes and starters and makes an attractive and tasty ingredient in many soups.
For fresh pasta, pasta-making machines are available to buy. You can choose the type of pasta you make at the same time as having the fun of making your own. And the taste of fresh, homemade pasta is unbelievable.
Guide to Pasta Types
There are hundreds of different types but they fall into four main categories of pasta; long and round, long ribbons, hollow tubes and small shapes. Some (like ravioli and cannelloni) can be filled with various fillings-including savoury-made with vegetables, cheese, fish, or meat.
Pasta means 'dough' in Italian and is most usually made from durum wheat that is mixed with water. Strong white flour and fine semolina are mixed with olive oil, eggs, salt and water to make a basic pasta dough. When no additional colouring is used the pasta looks yellow in colour, but can be red (tomato) pink (beetroot) orange (saffron) and green (spinach) depending on what has been added to colour it. Squid ink creates black pasta.
This list gives a few of the most frequently used pastas in alphabetical order:
Anelli-small rings used in soup
Bigoli-whole-wheat from the Veneto region
Cannelloni-large, thick tubes
Capelli-similar to spaghetti but thinner
Conghiglie-ridged shells
Ditali-small tubes that look similar to macaroni
Eliche-loose spiral shapes
Farfalle-bows
Fettuccine-medium ribbons
Fusilli-spirals
Gemelli-means 'twins' because two pieces are wrapped together
Lasagne-flat rectangular sheets
Linguine-long flat ribbons
Lumaconi-large shells often used for fillings
Macaroni-long or short tubes- often served with cheese sauce
Penne-short, thick quills
Ravioli-small squares with a filling
Rigatoni-thick ridged tubes
Rotelle-wheels
Spaghetti-the best known pasta that can be fine, medium or thick rods
Strozzapreti-double twisted strands known as 'priest strangler'
Tagliarini-flat, thin, ribbons
Tagliatelle-broad, flat, ribbons
Vermicelli-fine strands, usually twisted into long coils
Zita Tagliati-short, thick, tubes
Cooking Pasta
Perfect pasta is neither undercooked-because then it tastes of flour and remains unyielding-or overcooked because it becomes a sticky soggy mess. The Italian term for how pasta should be cooked is 'al dente' which means 'to the tooth'. Pasta should be tender but still taste firm when bitten.
To work out serving portions of dried pasta, a rough guide is 40-50g per person if the pasta is to be served as a starter or salad and 75-115g per person when served as a main course.
When cooking pasta in a large saucepan, the addition of a little olive oil to the boiling water helps to prevent sticking and gives the pasta movement and lustre. Cooking times vary between 2-3 minutes for fresh, unfilled pasta, to 15-20 minutes for dried, filled pasta, so it is important to check the recommended cooking times of different types. If cooked pasta is not to be used immediately, it is best to return it to the pan it was cooked in (after it has been drained) then add a little butter or olive oil to keep it moist.
Take time and effort to cook pasta; it can make or break a meal!
You might also like...