Step-by-Step Guide to Popular Pasta Dishes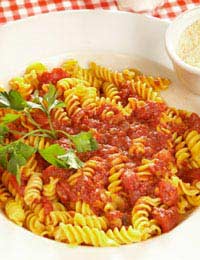 Step-by-Step Guide to Popular Pasta Dishes
Pasta provides an economical and versatile choice of meals to suit all tastes. These step-by-step guides are just that, they can be adapted and used in other recipes, as well as to suit your lifestyle and preferences.
Spaghetti Bolognaise (Or worms and dirt as my daughter called it!)
The meat sauce used in this well-known recipe is called a ragu which can be used in lasagne and other baked dishes. Make double these quantities and freeze half of it in single portions; useful back-up for quick suppers!
Ingredients to serve 4
For the pasta
400g dried spaghetti
1 tablespoon olive oil
2 tablespoons fresh chopped parsley or basil
15g butter
For the Ragu
3 tablespoons olive oil
40g butter
500g lean minced beef
175g diced bacon
400g can chopped tomatoes
2 tablespoons tomato puree
1 tablespoon plain flour
150ml beef stock
150ml red wine
2 large onions, peeled and chopped
2 cloves garlic, finely chopped
2 teaspoons dried oregano or Italian mixed herbs
Salt and pepper to season
Grated parmesan to serve
Step One
Start your spaghetti bolognaise by making the ragu: heat the oil and butter together in a large frying pan over a medium heat. When the oil and butter have heated up, add the chopped onions and diced bacon and fry them for about 5 minutes, stirring occasionally.
Step Two
Next add the garlic and minced beef. Stir ingredients together and break up the mince so that it does not form big clumps, loses its red colour and begins to darken. Turn the heat to low. Continue to cook this mixture for about 10 minutes and stir occasionally.
Step Three
Turn the heat back up to medium and stir in the tomato puree and flour, stir the whole time as you cook this for 2 minutes, then add the chopped tomatoes, stock and wine. Now increase the heat again until the mixture comes up to the boil, continue to stir. Add salt and pepper now, if wished, and sprinkle the dried herbs into the sauce.
Step Four
Lower the heat again to medium, cover the pan with a lid and let the sauce simmer for about 45 minutes, stirring now and then to make sure it does not stick and that the ingredients are well combined.
Step Five
Follow the cooking instructions on the packet of dried spaghetti. When the pasta is 'al dente' (tender in texture but still firm to the bite) drain it in a colander, with small holes, and then put it back in the pan. Dot the butter over the cooked spaghetti and toss it in the pan-easiest with two forks.
Step Six
Taste the ragu and add more salt or pepper if required. Sprinkle with chopped parsley or basil and serve the spaghetti topped with ragu and grated Parmesan cheese.
Penne with Tuna
Ingredients for 4
400g dried penne or similar pasta
200g can of tuna, drained
5 tablespoons olive oil
2 cloves garlic, chopped
3 tablespoons chopped fresh parsley or basil
115g diced mozzarella cheese
1 tablespoon capers (optional)
Salt and pepper to season
Step One
First, cook the pasta according to packet instructions. Mix the garlic, capers, tuna and oil together with salt and pepper to taste.
Step Two
Drain the pasta when it is ready and transfer it to a large frying pan over moderate heat. Add the tuna sauce to the pasta and dot with cubes of mozzarella. Cook for about 5 minutes and stir the whole time. When the cheese has begun to melt into the other ingredients, your dish is ready to serve.
This sauce is easily adapted; try it with anchovies (50g can)pine nuts (25g)and sultanas (50g)together with a can of chopped tomatoes and 2 tablespoons tomato puree, too.
Sauces for pasta can really encourage your creative side! As a basic guide, these combinations work well together; tomato-based sauces with long or round pasta, cheese and béchamel sauces with baked dishes and chunky sauces with shaped and hollow pasta.
One Step Carbonara
Cook the dried spaghetti, drain, return to pan with butter or olive oil.
Ingredients for 4
2 tablespoons olive oil
75g parmesan cheese
175g rindless bacon-thin strips
25g butter
300ml double cream
3 eggs, beaten
175g mushrooms
1 large onion, peeled and sliced
2 cloves garlic, chopped
While the spaghetti cooks, fry the onion in olive oil in a frying pan. Add the garlic and bacon (cook bacon until crisp.) Remove and keep warm. Melt the butter in the same pan, cook mushrooms for 4 minutes, return bacon mixture to pan. Stir, cover and keep warm. Stir cream, eggs and parmesan together. Tip spaghetti into bacon mix, pour egg mixture on top. Toss quickly with two forks and serve on heated dish.
You might also like...