How to Make Jam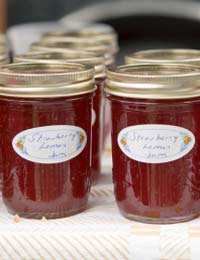 Making a good jam is easy if you know the fundamentals. Learning the various processes can allow you to discover many new ways to use up fruit in tasty and long-lasting recipes that can be given as gifts as well as enlivening your family's breakfast table.
Jam Facts
There are three things that need to happen for a jam to form, pectin (which is a naturally occurring substance in most fruits) has to react with sugar and fruit acids to thicken and form a gel that preserves the fruit.
Because fruits can interact with sugars to create surfaces on which bacteria can multiply rapidly, it's vital to clean and sterilise equipment and jars to minimise any risk to health.
The Many Varieties Of Jam
A classic fruit jam is made from fruit cooked to a pulp which is then heated to a high temperature with sugar until it sets. This is called a jelly when the fruit has been cooked to a pulp but is strained through a cloth to remove any pieces before heating with sugar. Some jellies are less sweet than jams and served with meats rather than as a dessert. A conserve is similar to a jam but because the whole fruit is used and 'conserved' as closely to its original shape as possible, and because there is often the addition of some alcohol, the resulting sweet fruit mixture is not encourage to set as thoroughly and instead the fruits are preserved in a sugar-heavy syrup. A marmalade is a high-citrus jam that relies on the bittersweet qualities of citrus fruit to make a highly distinctive form of preserve usually served with breakfast breads.
Top Tips For Good Jam Making
Because pectin is highest in slightly under-ripe fruit, try to choose fruits that are in good condition and not over-ripe. Pectin becomes pectose in over-ripe fruit and this causes two problems: the jam will not set as well and it may also deteriorate quickly.
Ensure your jars are super-clean. Wash the jars thoroughly, using some sterilising fluid of the kind used for babies' bottles if you want to be ultra-certain about cleanliness. To be sure that they remain sterile put the clean jars in a cool oven (around 130C or gas .5) for fifteen minutes.
Make sure you use the right amount of sugar. The classic proportion is 50:50 for a jam, which means 450 grams sugar to 450 grams fruit, but in very high pectin fruits you may want to add a little more sugar to keep it sweet and in low pectin, high sugar fruits such as strawberries, you can drop a little sugar to stop the jam being cloying.
There are specialist jam sugars that give a clear, tasty, well-setting jam, you can use fine sugars but they are more difficult to dissolve which can destroy some of the flavour of the jam and give a cloudy effect.
Some fruits need extra water when making jam, but others don't. Follow your recipe carefully to avoid making a jam that's dense, treacly and chewy through lack of water or runny and tasteless through too much water.
Pectin Contents Of Common Fruits
High-pectin fruits: black, red and white currants, cooking apples (especially if the skin is included in the recipe) damsons, quinces, gooseberries.
Low-pectin fruits: strawberries, raspberries, blackberries, cherries, pears, rhubarb.
You might also like...