Useful Sauce Tips and Serving Suggestions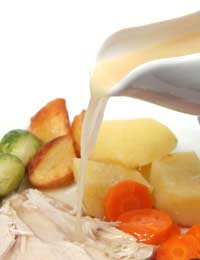 Useful Sauce Tips and Serving Suggestions
A well-made sauce can make the difference between a 'nice' meal and a memorable one. With all sauces-sweet, savoury, whatever type, the important things are: getting the quantities right, adding liquids at the right temperature, taking your time to cover the basics thoroughly.
Tips to Rescue Sauces
Sometimes it just goes wrong! Don't worry; it happens to everyone and usually at the most crucial time. There are rescue plans to be put in place...and you can carry on as though nothing untoward happened and still take all the compliments!
What to do When a Sauce Curdles
Remove the pan from the heat as soon as you can and plunge it into a bowl or sink of cold water. Take care to keep the water out though! This method should rescue the sauce-just carry on where you left off. Alternatively, if a sauce curdles, add one teaspoonful of cold water (or cream) to the pan and continue stirring.
If the mayonnaise you're making curdles, start with a clean bowl, another fresh egg, then gradually add the curdled mixture to the new base. Or, start again, but use a different type of oil. Olive oil, sunflower oil and nut oil are the best ones to use for a successful mayonnaise and are almost foolproof. The usual reasons for curdled mayonnaise are: oil too cold, oil added too quickly, stale egg yolk.
Custard may curdle, if it starts to go, quickly whip in 2 teaspoonfuls of cornflour to each pint of liquid and continue to stir. This should save it.
Is the taste of the sauce much too sweet? Add a squeeze of lemon juice. Too salty? Add a drop of milk, cream, or plain yoghurt.
The stock, soup or sauce you've spent ages preparing looks thin and watery; boil it briskly for a few minutes without the lid on the pan. If the opposite has happened and the mixture has gone lumpy, whizz it in a blender or food processor for a short burst.
Serving Suggestions for Sauces
Matching the right sauce to the right dish is as important as making the sauce in the first place. Sauces should complement the food they are served with. The end result of combined flavours, colours, and textures need to be considered as a whole-not the result of a few randomly slung together parts! (This doesn't mean you shouldn't experiment, though, as sometimes the most unexpected tasty discoveries can be made this way.)
Some Popular Savoury Sauces
Gravy-probably the best known sauce. Imagine your roast dinner without it...
Bread sauce has been served with chicken for hundreds of years. It works.
Cheese sauce can be adapted to go with just about any fish, vegetable, poultry, ham, bacon and egg dish imaginable. Consider how many different types of cheese there are to try!
Onion sauce with roast lamb is delicious. It is also good with cold meats and can be mixed with grated cheese and toasted to make a substantial snack.
Tomato sauce is an extremely versatile sauce. Can be eaten as it is, used as a base for other dishes, or to complement another sauce in pasta dishes for example.
Hollandaise sauce is a classic-serve with fish, egg, chicken and vegetable dishes.
Sweet Sauces
Custard sauce is good as it is and in trifles. Useful for using up overcooked cake, serve as a pudding!
Wine sauces for puddings-a base of butter and arrowroot with water, sugar and sherry or port added. Works well with most hot puddings or ice cream.
The list of possibilities is endless, but in a nutshell, most basic sauces can be adapted to suit your taste and the recipe dishes you want to try.
You might also like...