How to Make a Simple Tomato-Based Sauce.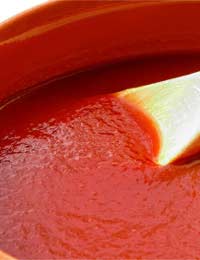 How to Make a Simple Tomato-Based Sauce
Tomato-based sauces are useful for all sorts of meals. The basic sauce can be served alongside cold meats, fish, egg, and vegetable dishes or as a part of a rice or pasta meal. It can be added to; according to personal preference and the required taste of your completed dish. This sauce does not take long to make, will give you approximately 400ml of sauce, and it can be frozen. I suggest using a combination of tinned tomatoes for flavour and fresh tomatoes for added nutritional value.
Ingredients
1 large onion, peeled and finely chopped
1 clove of garlic, peeled and crushed
1 sprig thyme and fresh basil or parsley and oregano-whichever you prefer
1 bay leaf
185g tin of chopped tomatoes
6 ripe tomatoes
2 tablespoons olive oil
2 tablespoons tomato paste (optional for stronger flavour)
Put the fresh tomatoes in a bowl with enough boiling water to cover them. Leave them in the hot water for about 1 minute then remove with a slotted spoon. The skin should now peel off easily. (Tomato skins are best removed for cooked dishes because, apart from looking stringy and unattractive in the end result, they are difficult to digest.) Heat the olive oil in a pan (moderate heat) and fry the onion and garlic until golden and transparent, but not brown or crisp. Add the herbs and both the tinned and peeled, fresh tomatoes, season with salt and pepper if desired. For a sweeter sauce, add half a teaspoon of sugar. Gently simmer the sauce for 30-40 minutes. Remove the bay leaf and fresh herb sprigs.
Uses for Tomato-Based Sauces
This sauce can be used straight away as it is as or can be served cold. Try it as a side dish with barbequed sausages, burgers or mixed grills, plain fish dishes, or anything that may otherwise be slightly dry. The sauce adds colour and moisture and tastes really good-at the same time as bringing a meal together to complement different textures and tastes. It can be used as it is with pasta.
Tomatoes are a source of vitamins C and A, they also contain B vitamins, but recent research has shown tomatoes may have 'super food' qualities because they contain high-value lycopene, a nutrient with disease-fighting abilities.
This simple recipe idea can be used as a base for soups-minestrone especially-ratatouille and many vegetarian meals.
Tomato-based sauces are very useful in Italian recipes, where you may wish to use layers of pasta and a roux-based white sauce to complement it. If making pizzas at home, this can double up as a tasty sauce for spreading over the pizza base. Another useful tip is to use this as a base for stews-it creates an attractive and full-bodied foundation that you can add to. For a stronger herb flavour, you could use a mixture of herbs, but not more than three different types at once, or the combination will be too much. Try varying the sauce with marjoram or chives too. There are no fixed rules,use herbs that you like but remember they should complement the finished dish, not overpower it.
You might also like...