Game Stock: How to Make and When to Use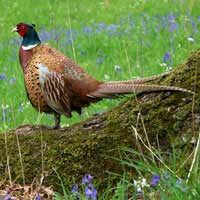 Game Stock-How to Make & When to Use
Game refers to feathered and furred wild animals shot for food at certain times of the year, outside the different breeding (closed) seasons. Pigeon and rabbit have no closed season. Game is often overlooked as a general food because people think it expensive to buy or complicated to cook. However, game is low in fat and calories, can be bought oven-ready if you don't fancy attempting all the hanging, plucking and gooey bits, and has been a big part of our culinary tradition for centuries!
Where to Buy Game
Most farm shops, butchers, farmers markets and supermarkets offer a selection of game. Ask whether it is farmed or wild. (Wild game is less likely to be contaminated by chemicals, growth hormones and antibiotics, but you do need to watch out for the odd pellet or lead shot!) If you have a game shop in your area, it is worth a visit; the proprietors' will probably be keen to offer help and advice on preparation and cooking of game.
Ingredients for Game Stock
The main part of this stock should consist of 1-1.5 kg of mixed game bones and meat. This can be made up from the clean carcasses of 2 pigeons, pheasants or partridges (chicken or turkey can be used instead but they don't have quite the same flavour) with rabbit bones and trimmings and/or venison and/or hare. Rabbit is available all year round, venison and hare are not. Preheat the oven to 220C while you prepare the ingredients.
1 of each: celery stick, leek, carrot, washed and chopped
1 large onion, peeled and chopped
1 bay leaf, 1 sprig of thyme, 1 sprig of parsley
3 cloves of garlic peeled and sliced
4 black peppercorns left whole
6 juniper berries
2 tablespoons olive oil
2 litres of water
Cook the bones and meaty bits in a roasting tin with the olive oil for about 30 minutes-by which time the bones should be evenly browned. Remove from the oven.
Place the contents of the roasting tin in a large stock-pot with all the other ingredients. As you add the water, make sure that the bones are covered but no more or the stock will be grey and wishy-washy. Bring to the boil.
Reduce any scummy froth that forms on the surface of the stock with a ladle, then lower the heat. Cover the pot with a lid and allow the stock to simmer for approximately 3 hours. During the cooking time, repeat the skimming to get rid of any scummy layer and top up with more (hot) water if necessary.
Straining the Stock
When the stock has simmered away gently for 3 hours, remove it from the heat. Using a fine sieve, strain the liquid into a bowl then leave to settle. Discard the rest of the ingredients. If you have time to leave the stock to cool before using it, it is easier to remove the surface layer of fat in one piece. If you intend to use some of the stock immediately, use sheets of absorbent kitchen paper to blot the fat from the surface.
Your home-made game stock is now ready to use or, once thoroughly cooled, frozen. For home-made game stock cubes, try freezing this in ice trays, then transferring the cubes to freezer bags. Simply pop one or two cubes into the dish you're making, as and when you need that extra flavour. This will freeze for up to 6 months-check your freezer guidelines.
Uses for Game Stock
This delicious stock makes all the difference-with its flavour and colour-to any sauces, soups and stews that need a full-bodied base. It can be thickened with corn-flour and used as gravy. It is also excellent for poaching cuts of game in and can be made even more luxurious by adding a glass of sherry or Madeira.
You might also like...