Vegetable Stock: Tips On How to Make and Use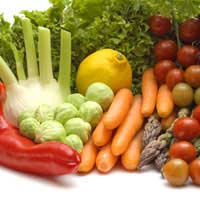 Vegetable Stock: Tips on How to Make & Use
This quick and relatively cheap vegetable stock is useful as a base for many soups and sauces. As well as providing a good base for numerous vegetable dishes, it can also be used with eggs and fish. It is a great way of using up some of the parts of vegetables that are otherwise wasted. For a white stock follow the method below. If a brown vegetable stock is needed, first gently cook the vegetables in about 50g of butter-until they are browned-then add to the pot, cover with cold water and continue as for white vegetable stock.
You don't have to use all of the ingredients listed here. Instead, or as well, use your favourite vegetables, what's available and reasonably priced and what you have left in your vegetable tray! Fresh corn on the cob can be added to the stock to give a sweeter taste. Mushrooms are useful if you want to make a 'meatier' vegetable stock. Slightly withered carrots and parsnips are OK to use...avoid using any vegetable that's obviously past it though. If you love cabbage and want to use some in your stock it is advisable to use the freshest, inner leaves only. Let it simmer with the other ingredients for a couple of minutes, then remove from the pot. The outer leaves may cause the stock to taste bitter. Cabbage is popular but it can overpower the more subtle flavours in a mixed vegetable stock (like this one) that is intended for more general use. If you want to use leafy greens, try adding a handful of baby spinach leaves to your stock.
Ingredients
Carrot, parsnip and leek peelings and tops, washed and chopped (to fit in the pot)
Celery stick, washed and chopped
Cauliflower, broccoli and asparagus stalks, washed and chopped
1 large onion (no need to peel if skin is clean, just pop in as is)
6-8 peppercorns and 1 teaspoon salt (optional)
A few sprigs of fresh thyme & parsley (dried mixed herbs can be used instead)
1 bay leaf
Water
For white vegetable stock, place all the prepared vegetables straight into your stock-pot, add herbs and seasoning. Pour enough cold water over the contents to cover them-around 4 pints is a reasonable quantity to make. Add more, or less, vegetable and water contents to make the required amount.
Bring the stock to the boil then reduce heat and cover pan with a lid. Skim any surface scum with a ladle. Simmer for about 30 minutes. Remove from heat.
Skim any surface scum that has formed then strain the stock into a bowl and allow to cool if refrigerating or freezing it.
Uses for Vegetable Stock
As previously mentioned, stocks are used as a foundation for numerous culinary dishes. This white vegetable stock makes a perfect base liquid for vegetable risottos as well as soups and sauces. It can also be used when making a vegetable curry and is an ideal substitute for chicken stock if you want to avoid meat products. One of the best things about making a regular supply of this stock is that there is very little food wasted! You can even wash and freeze your vegetable trimmings to make the stock at a later stage.
Summary
Vegetable stocks can vary enormously-it depends on personal preference and what the stock will be used for. If you fancy a reddish coloured stock for a specific dish, use beetroot in the basic stock. Experiment with your favourite flavours and colours to produce the stock that you prefer to use for each dish.
You might also like...