Fish Stock: The Basics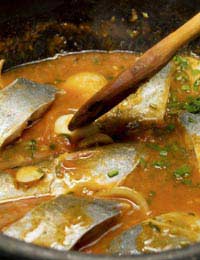 This stock uses up the pieces of fish that would otherwise be wasted in many households, yet, with a little time and effort, the end result is a useful and tasty foundation for many fish dishes.
How to Make Fish Stock
Heads, bones and tails of fish, such as cod, haddock, plaice, sea bream, turbot or brill, make an excellent basis for this stock. Fish stock takes less time to prepare than the Brown Stock but does not keep as well and is best used the same day.
Ingredients
1kg fish trimmings
1 large onion-chopped or sliced
1leek-washed and chopped or sliced
1 stick of celery-washed and chopped or sliced
Crushed white peppercorns (2 or 3)
A handful of parsley stalks
2 sprigs fresh thyme
2 tablespoons of olive oil
2 cloves of garlic chopped or sliced(optional)
Pinch of sea salt
2 pints of water should be plenty to cover the ingredients for this stock. Don't use too much or the stock will be wishy-washy, but to get every bit of goodness from the ingredients, make sure the fish bones are covered by the water. Some people add a few ice cubes before heating the stock as they believe it makes a clearer liquid and others like to add a glass of dry white wine and/or 2 tablespoons of lemon juice. Experiment with stocks and make them to suit your taste.
Prepare the fish trimmings first by washing them in cold water. Remove any blood clots, eyes, or other debris from the bones as they can make the stock cloudy and bitter-tasting. Put the cleaned trimmings in your stock-pot and pour in enough cold water to cover them. Heat the olive oil in another pan and add the vegetables-heat gently until they soften but before they go brown. (For a stronger-flavoured stock, gently fry the fish trimmings too before simmering everything together in the stock-pot.)
Add the vegetables, salt and pepper to the stock-pot, cover the pan with a lid and bring your stock to the boil. Turn down the heat and remove any scum that has formed on the surface. Simmer gently for about twenty minutes-removing the scum that forms by skimming with a ladle. This takes practice and patience! It is important that the stock does not overcook as this can spoil the flavour.
The final step. To ensure your fish stock is as bone-free as possible strain it through a fine sieve, twice, or a muslin cloth. Now that the fish trimmings, seasonings and vegetables have done their job, they can be disposed of. Allow the clear stock to cool then store in a covered container in the fridge or use immediately.
Uses For Fish Stock
The flavour and colour of home-made fish stock makes a perfect base for sauces, soups, fish mousses, and just about any fish dish that needs liquid! Some recipes may suggest that you use a court-bouillon for fish dishes. Court-bouillon is a stock made from root vegetables, water, wine and vinegar, but this recipe for basic fish stock does the job very well and is perfect for poaching fish in. Home-made fish stock makes the simplest fish dish taste extra special. (Why not try cooking rice or pasta in this fish stock when you are serving either with baked fish or fish in breadcrumbs?)
You might also like...