Pots, Pans & Casseroles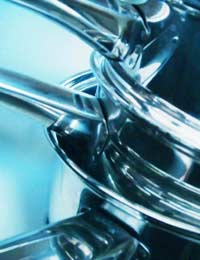 Pots, Pans & Casseroles
Which to choose: cast-iron or steel-coated? Or perhaps, china, earthenware, porcelain, or flameproof glass appeals to you more? Maybe a chicken brick, too, while you're looking. Then there are fish kettles (with detachable grids, no less) milk pans with lips, non-stick frying pans, double boilers, steamers, omelette pans, preserving pans...and do you want a copper bottom?
So, where do we start when we just need a saucepan? Check the handles, they should be secure-for obvious safety reasons-and preferably hollow, as solid metal handles get very hot. Thin bases on pans will buckle and change shape; so they stop sitting flat on the heat.
What is the Difference?
Aluminium pans spread heat evenly, can be used on most types of cooker and are inexpensive, but can mark easily. (This can be helped by boiling up a brew of lemon peel and water in the discoloured pan.) There are good anodised aluminium pans available that do not mark like other cheaper ones.
Stainless steel is more expensive; because it lasts. Pots and pans made from stainless steel conduct the heat evenly and are easy to clean. They look attractive and hygienic in a kitchen and can be used on all types of hobs (check this before you buy.)
Enamel pans do heat quickly but food can stick to their surface, particularly if the pan is over-heated.
Cast-iron and copper pans are not the best for cooking vegetables in as the metals destroy vitamin C. They are best for slow-cooking foods but be warned: they are heavy!
Non-stick pans and baking tins are great because they are so much easier to wash up; don't use any scouring pads or tools that will scratch the surface coating, though and follow care instructions carefully to get the best wear out of your pans.
The advantage of flameproof/ovenproof glass is that you can see what's going on inside. A disadvantage I found was that when you drop one of these pans the glass seems to go everywhere!
Recommended Minimum
For a family of four, the following list would be a reasonable minimum selection.
Set of saucepans in your chosen material (dishwasher, oven, hob safe)and style that consists of:
One 16cm saucepan with lid
Two 18cm saucepans with lids
One 20cm saucepan with lid
One 14cm milk saucepan
One 24cm frying pan with lid and splatter guard
One stockpot with lid
Steamer insert for one saucepan
Colander and sieve
A selection of baking tins and trays, roasting tins and trays, bread and cake tins is also essential to the home cook.
Casseroles
We are spoilt for choice. The casserole dishes we choose are most often based on personal preference from previous experience. If one type suits us, is good value for money and we are 'used to it', that tends to be the one we stay with. Colour scheme is another factor to consider. Everything about a kitchen feels better if the pots, pans and other items on show are in harmony with each other-not just the singing kettle.
Some casserole dishes are flameproof as well as ovenproof and can be used on top of the stove and in the oven. Usually oval or round, casserole dishes must have lids that fit well but can be lifted off safely and have handles that make for easier handling, both in and out of the oven. Because of the job they do casserole dishes tend to be heavy. Don't buy something you can't lift!
Oven to tableware casserole dishes are very useful because they do two jobs and look good. They save on washing up too...
You might also like...
I am looking to buy at least 4 9x13 stainless steel pans with a stainless steel lid to give as Christmas presents and one wedding gift.I am really having a hard time finding one with a lid.My Dad bought me and my sister each one about 40 years ago.I still have mine and use it all the time.She does too.We have no idea where he bought them.He is no longer here to give us any information on them.There websites are not making it very easy to search for them, either.
none
- 2-Oct-11 @ 5:25 PM
I'd just like to mention titanium coated saucepans and casseroles.I have started to replace my stainless steel saucepans with them and they are brilliant!They are not cheap though, which is why I am replacing them gradually.Also they are all oven proof, which is an added bonus.
JuliaBalbilla
- 1-Jun-11 @ 1:25 PM