Oven Gloves and Aprons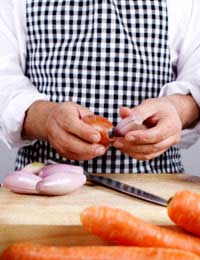 Oven Gloves and Aprons
These essential items are so easily overlooked when starting on our own; don't be caught out with a hot dish in the oven and nothing to hold it with! Oven gloves are designed to do an important job.
Glove Types
Numerous designs of matching oven gloves, aprons and tea towels adorn the shelves of kitchenware shops and department stores, as well as supermarkets. There are more relevant things to consider than how the pattern on your oven gloves looks, though.
Double oven gloves provide a cover for each hand joined together by a piece of material that is the same width. They are in one piece.
Oven mitts provide separate coverings for each hand and are not attached to each other. They can be bought with thumbs and/or fingers in the design.
Oven gauntlets are like mitts, in that the hands are separate, but they are much longer. Gauntlets cover part of the forearm as well as the hand; the forearm is a common site of burns from hot ovens and grills.
Snapper gauntlet gloves are individual hand covers with the addition of a thumb piece.
Oven gloves are supposed to protect our hands so try a few different styles in the shop to find out which feels most comfortable for you; you will be working together for years!
Thin, cheap, oven gloves are not a good buy. Those that are bulky and too thick can cause accidents when the wearer is handling hot dishes. Whichever style you choose, make sure it is the best quality you can afford. Better to buy one good pair of oven gloves than four poor quality pairs. Oven gloves that offer inadequate protection are not worth wearing!
Look for the British Safety Standard sign on new oven gloves; this shows that the glove design has passed various product tests and been approved as safe to use (check guidelines of individual packs.) The material may be 100% cotton canvas and towelling with a fabric protector. A protective PVC membrane is used to line some oven gloves to guard against steam and grease. There are manufacturers that even offer guaranteed heat protection of up to 350F on their products.
From a practical point of view, oven gloves also need to be kept clean-buy machine washable if possible and follow washing instructions to keep the shape of the gloves. Some people like to hang up their oven gloves, but beware loose material that may get caught and cause accidents.
Aprons
How many people bother to wear aprons at home nowadays? For professional chefs aprons are a part of the uniform and they would not dream of working in a kitchen without one. Butchers and fishmongers wear them out of necessity, too. For most of us though the 'novelty' apron, bought for us by friends or family with a dubious sense of humour, are the only ones we possess.
The basic apron shapes include long half apron, waist aprons, bibs, tabards, money-pocket aprons and the traditional butchers stripe apron.
Simple reasons to wear a kitchen apron:
They protect our clothes from flour/splashes when we are preparing food.
Hygiene. They protect our food from our clothes!
Protection from getting buttons/zips on clothes hot or caught up.
Something to wipe your hands on as you cook!
Cotton drill is one of the best materials for kitchen aprons because it can be washed at higher temperatures in the washing machine, it's more hygienic and looks professional. Denim, canvas and PVC backed cotton are also used.
Unless obliged to wear aprons at work, the choice is up to us whether we wear one or not when preparing food at home.
You might also like...