Utensils and Their Uses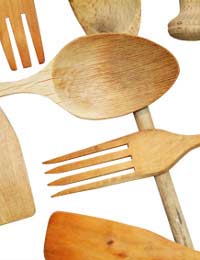 There is a bewildering choice of kitchen gadgets and gizmos on sale; this article aims to remove some of the mystery surrounding kitchen equipment and provide tips about the most commonly-used utensils.
Choose Wisely
Sets of stainless steel and nylon basic kitchen utensils can be bought in specialist shops and most supermarkets. Some top chefs have their own ranges of kitchenware. As with all kitchen equipment, though, it pays to buy quality utensils that will not just last longer, but will probably do a better job. There are cheaper versions of everything; they are normally cheaper for a reason.
Every Home Should Have (at least) One
These are the types of tools we don't pay much attention to; until we can't find them! Trying to use the 'wrong' utensil to do a job in the kitchen can be frustrating, at least, and dangerous at worst. Consider a simple detail like the handle-length of your utensils. These have been designed for specific tasks; with practicality and safety in mind. It is important to use utensils made from the right material (non-metallic) on non-stick pans to avoid damaging the special surface coating. It is also important that they 'feel right'.
Spatulas have broad, flat and often flexible, blades for lifting, spreading or stirring foods. They can be made of rubber, wood or stainless steel to suit non-stick, metal or enamel saucepans. Slotted spatulas are used to lift and drain food.
Fish slices are another of the most used kitchen utensils; but not just for fish! The angled head and long slots make it an ideal instrument for lifting fried food from pans and baked food from baking sheets.
Tongs are the best tools to use for grasping and lifting individual pieces of food as they cook under the grill, in the frying pan, or on the barbeque, such as chops, sausages and rashers of bacon.
Apart from serving soup, the deep bowl of a long-handled ladle is also useful for lifting the froth from stock pots and transferring liquid from one container to another. For example, when adding cold cream to a hot dish, the cream needs to be combined with some of the hot liquid first to make sure it blends in satisfactorily; the ladle is ideal for this.
A good potato masher is essential! Nothing else quite does the job as well as a proper masher. Its use is not restricted to potato mashing only though; it is very useful for pushing out the excess moisture from cooked spinach and can be used to make an acceptable sort of puree if you do not have a liquidiser. Mashed swede, parsnip and carrot can be made perfectly, too, of course!
Buy a decent cheese grater; it will prove its worth as an invaluable bit of kit!
Miscellaneous Utensils
Tin and bottle openers/corkscrew
Assorted wooden spoons
Kitchen scissors
Peeler and corer
Rolling pin
Carving fork
Measuring jugs and spoons
Scales that are easy to understand and easy to clean!
Pastry brush
These are just some of the absolute necessities to get started with. As our cooking develops and we become more interested in certain aspects of it, so the need for more bits and pieces arises. Pastry, bread and cake making equipment and utensils could fill another cupboard alone. Assess what you need most of all by thinking about the food preparation you do and what you eat at home.
Whisks, Presses and Reamers
Whisks have saved the day for me on many occasions when my culinary concentration has curdled; lumpy gravy, carelessly-thickened sauces...Give them a good beating with a balloon whisk! To save on elbow grease, a rotary whisk is the business for egg whites, and a hand-held electric blender makes light work of battering batters.
Garlic presses are designed to change firm cloves of garlic into a softer, more palatable, form. If you do buy a press, get one that will last, does the job without hurting your hand and is easy to clean.
Reamers (usually glass or plastic) have a conical projection that is used to extract the juice from citrus fruits, like lemons and oranges. When the fruit is cut and pressed down on the projection, the juice runs down and is collected in a reservoir at the bottom.
Mortars and Pestles
These rather exotic-looking utensils are used to perform one of the most basic processes in food preparation; grinding. As you pound together ingredients like basil, garlic, tomato puree, you can't help but feel some connection with ancient instincts!
When choosing utensils for yourself, think:
Will it do the job efficiently?
Is it easy to clean?
Does it suit my needs? (Left or right handed.)
Will it last?
Is it the best I can buy?
Do I really need it?!
You might also like...
Thanks for ur lessons. You've saved the day
Davinci
- 3-Jan-17 @ 12:27 PM