Biscuits for Beginners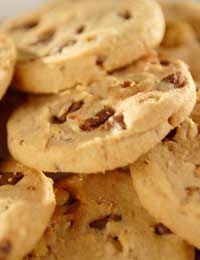 Biscuits for Beginners
For long voyages, small, hard cakes were taken as part of the seamen's ration. Previously baked before the ship was loaded, the small cakes would be then baked again on board, before the sailors ate them. This is where the word biscuit comes from; in French it means 'twice baked'.
Thankfully we don't have to go to all that trouble; but the choice of recipes for homemade biscuits is as vast as the ocean...Types include shaped cookies, drop cookies, piped cookies, rolled biscuits and bar-type biscuits.
One Hundred Fairground Buttons
Preheat the oven to 170c. These quantities should make approximately 100 biscuits-you may need to add a little more (melted) butter if the mixture seems too dry to blend.
Ingredients
400g plain flour
175g of both brown and caster sugar
80g butter
2-3 tablespoons milk (or water)
A few drops of lemon or vanilla essence
Gently warm the milk or water in a pan. Add the butter to melt in the liquid and a few drops of whichever essence you decide to use.
Mix the sugars and sifted flour together, then make a well in the middle of this dry mixture and add the milk and butter. Blend it all together with a wooden spoon until it makes a firm dough.
Sprinkle a little plain flour on a board or kitchen surface and roll out the dough to a thickness of between 0.3 and 0.6cm. Cut into rounds (use a clean upturned cup, jam jar, or lid if you haven't any pastry cutters) ideally about 4cm in size.
Position the rounds so that they have space between them on a greased baking sheet and pop them at, or just above, the centre of your preheated oven for about 20 minutes.
Most biscuits store well in airtight tins for a week or longer and some can be frozen. They are usually devoured within 24 hours of being baked though; because the fresh warm smell of homemade biscuits is too much to resist.
Oat Crunchies
This recipe is an old favourite and gives a light tasty biscuit once served with a warm Wassail cup in winter. The following quantities make about two dozen biscuits. Preheat the oven to 160c.
Ingredients
75g plain flour
Half a level teaspoon of bicarbonate of soda
75g Demerara sugar
75g rolled porridge oats
75g unsalted butter
1 tablespoon of rum and 1 tablespoon golden syrup
The flour and bicarbonate of soda should be sifted into a bowl together. Next add the sugar and oats and mix in with the flour and bicarbonate.
In a small saucepan, heat the syrup and butter together with the rum. When the butter has melted, add this mixture to the bowl with the other ingredients and mix with a wooden spoon.
Put some flour on your hands and roll the dough into balls about 2cm wide. Making sure there is space around each ball, place them all on greased baking trays and bake them in the centre of the preheated oven for about 20 minutes. They will turn a lovely golden brown colour. Cool on wire racks and serve as needed.
Refrigerator Cookies
These are easy to make and convenient to have in the fridge to be baked to order.
Ingredients
225g plain flour
1 teaspoon baking powder
100g butter
175g caster sugar or light, brown sugar
1 teaspoon vanilla essence
1 beaten egg
50g each of plain chocolate and ground hazelnuts
Sift the flour and baking powder together into a bowl. In a separate bowl, beat the butter until soft then add the sugar and continue beating until the mixture is light and fluffy. Add the vanilla essence and beaten egg to the butter and sugar mixture.
Next, add the flour and baking powder to the butter, sugar, egg mixture then grate the chocolate into this and finally, add the ground hazelnuts. Stir to combine all the ingredients together but not too much.
Shape the biscuit dough into a sausage-about 5cm wide. This can be wrapped in foil and kept in the fridge for up to a week. It needs to be chilled for at least a couple of hours before baking.
When you want to bake some cookies, slice as many thin biscuits as you need from the roll. Space them out evenly on a greased baking tray and cook them in a preheated oven (190c) for about 10 minutes. Cool on a wire rack.
These cookies are simple but delicious. If you fancy making different flavours, try using walnuts, desiccated coconut, glace cherries, grated lemon or orange rind (omit the vanilla) in other batches instead. Have fun!
You might also like...
Thanks very much I think I will try making it
fifi
- 14-Feb-12 @ 11:48 AM