Sweetcrust Pastry for Delicious Puddings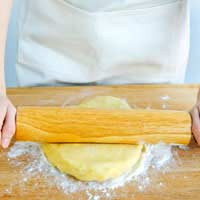 Sweetcrust pastry is a type of pastry often used for the base of a sweet tart or pie. Unlike puff pastry, it doesn't rise during baking because it contains no leavening. Usually it is made with refined, plain flour rather than wholemeal which can make the pastry too crisp or self-raising which tends to be too crumbly. Because sweetcrust contains sugar, which makes it crumbly, some people prefer to use half plain white and half plain wholemeal flour.
Like shortcrust pastry, sweetcrust is based on a half-to-half ratio of fat to flour. The fat can be lard, shortening, butter or full-fat margarine, but not low fat margarine as it has too much water in it and makes the pastry leaden and flat. Because the sugar impedes the establishment of gluten bonds, a sweetcrust pastry needs to be both relaxed and brought back to room temperature to allow it to be elastic enough to roll out well. From preference, use half butter and half lard and ensure that the fats are half the amount of the flour used. Butter gives the best flavour to the pastry but lard gives a smooth texture.
Tips For Making Sweetcrust Pastry
There are several tricks to making successful sweetcrust pastry:
Blend the fats and flour and sugar together thoroughly before adding any liquid – this allows the fat and flour to fully homogenize
Don't overwork the dough – many people find that using a pastry blender or cutter stops the mixture becoming too warm and overworked which can make the pastry tough.
When you have formed the dough into a ball, wrap it in film or place it in a plastic bag and refrigerate for a minimum of thirty minutes, and then bring it back to room temperature for at least fifteen minutes before rolling it out.
Rolling out sweetcrust can be challenging – one tip is to flour the board but place a clean sheet of lightly floured cling film over the dough and to roll the pastry out through the film. This stops the pastry sticking to the rolling pin and breaking.
Ingredients
300 grams plain flour (or 150 grams white and 150 grams wholemeal)
75 grams butter
75 grams lard
Pinch salt
1 egg
40 grams caster sugar
Put the flour, butter, lard and salt in a bowl and rub or cut together until it is well blended and has the texture of fresh breadcrumbs.
Break the egg into a separate small bowl, pour in the sugar and blend lightly with a fork.
Add this liquid to the flour mixture and mix with a knife until the pastry starts to come together and then use your fingertips to finish combining the mixture. Place in a bag or wrap in film and refrigerate for at least thirty minutes.
When you have allowed the pastry to relax, and brought it back to room temperature, you can start to work it to shape.
Roll sweetcrust pastry to around 3mm thickness and use to line a greased flan tin. Prick the base with a fork and allow the pastry to rest again for fifteen minutes. Preheat oven to 180C or gas 4
To cook a perfectly crisp sweetcrust tart, line the interior of the flan tin with a piece of greaseproof paper and then top it with baking beans and bake blind for ten minutes. Remove the paper and the beans, bake for a further five minutes to crisp the base and then add the filling and cook for the requisite time.
You might also like...