A Guide to Making Pastry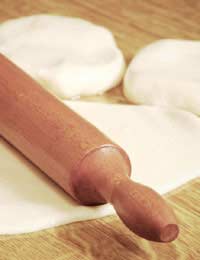 From such humble beginnings as unrefined flour and water mixed together, pastry has really come a long way. Made by the Romans as a basic food wrap, it was not intended to be eaten; but to keep in the meat juices during cooking. Since Roman time pastry has been developed considerably, with sweet, savoury and a plentiful choice in between, there is a pastry for every taste and occasion. Pastry chefs have become incredibly specialised too with their recipes.
Getting it Right
Proportions are key factors in pastry-making; a general rule is half as much fat to flour to get a pastry that is light but still able to provide a case for the food. It should complement the flavours of the fillings in texture as well as taste.
There is no amazing secret for instant success in pastry making. Patience and care with every stage is what matters. Even top chefs make mistakes sometimes; persevere and practise.
This list gives a few pointers to making pastry. While cooking is an adventure, some general guidelines are advisedly followed for successful pastry-making!
Handle pastry as little as possible and don't spend hours making it.
Keep the pastry cool-it helps to refrigerate the mixture before rolling it. The cold air will then expand during baking and help to keep the pastry light.
If possible, make your pastry during the coolest part of the day. Hot hands don't make good pastry!
Add the cold water slowly. More can be added if needed, but it can't be taken out.
Try to keep the amount of flour used on the rolling pin and surface to a minimum; otherwise the fat/flour proportions will change.
One egg yolk added to the water makes a richer shortcrust pastry.
For a crisper texture in pastry that is to be served cold, use milk instead of water.
Preheat the oven to the right temperature before baking. This is very important.
Easy Shortcrust Pastry
This idea is great if you're in a hurry! It's even easier if you whizz it in a food processor with the paddle attachment...
Ingredients
2 tablespoons cold water
225g plain flour
150g soft margarine
Put all the margarine, 2 tablespoons of the weighed flour and the water in a bowl. Mix the ingredients together-with a fork-until they are creamy. Slowly add the rest of the weighed flour and continue to cream it all together. The mixture should form a dough that can be moved around more easily.
Without over-handling it, turn the dough onto a lightly floured board and knead it gently so that it forms a smooth and easy to handle ball shape. Wrap in cling film and refrigerate for 30 minutes. Use as required.
For the 'proper' version of this, use the same quantity of flour but with 50g butter and 50g lard, cut into small pieces. Rub the fats into the flour gently with your fingertips until the mixture looks like breadcrumbs. Add the water and proceed as before. This can also be made using a food processor, but use short bursts, not prolonged of machining. Don't overload the machine!
It is worth mastering pastry-making techniques. The choice of dishes to cook are phenomenal and the satisfaction of taking your first perfect pie from the oven never forgotten...
You might also like...
Wow I was looking to find a shortcrust pastry to be made in a food processor, and which uses soft margarine which we always have in the fridge. I was amazed at how well this turned out, and fast! Used it to top a chicken pie and it was really great.
marabsky
- 23-Mar-12 @ 6:03 AM