Making Sweets at Home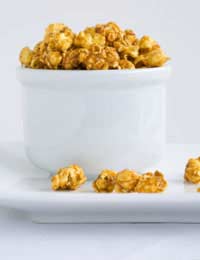 Making Sweets at Home
Sweet making can become a real hobby. It is an ideal way to save money on presents without looking as though you are! With practise and the right packaging, your homemade sweets can look very professional and provide something special for friends and family. Try the buttered popcorn recipe for a family film night at home; you may not remember the film, but you will remember the popcorn!
Buttered Popcorn
Ingredients
75g popping corn
2 tablespoons golden syrup
25g butter
2 tablespoons oil
Use a large, heavy-based pan for this. If you don't have one it's worth investing in a good one, as homemade sweets are often based on concentrated sugar syrup that needs to be boiled at high temperature. A cooking thermometer is also essential.
Heat the oil in the pan and when it is really hot scatter a thin layer of corn into the pan. Cover with a lid and shake the pan over the heat until the corn has stopped popping.
In a separate saucepan, gently melt the butter and golden syrup together. Add the cooked popcorn to this mixture and shake it evenly to coat all the popcorn.
Peppermint Creams
These are so moorish they rarely make it to the people they were made for...Sorry!
Ingredients
Peppermint essence
1 beaten egg white
225g icing sugar
Sift all of the icing sugar into a bowl. Add enough beaten egg white to make a fairly stiff paste. Mix in a few drops of peppermint essence-about 4 should be enough, it depends how minty you like your sweets, though.
Now use your fingertips to gently knead the mixture-still in the bowl. Remove from the bowl and place the paste between two sheets of waxed paper, then roll the paste out to a thickness of about 7mm. Remove the top sheet of paper and cut the paste into 2.5cm rounds with a pastry cutter. Leave the mints to dry for about 24 hours and they will be ready to eat or gift wrap; the choice is yours.
Milk Fudge
An old favourite that is still irresistible. This recipe makes about 900g (2lb) which can be divided into four small gift boxes and still look a generous amount. Great for Christmas gifts!
Ingredients
300ml milk
100g butter
2 teaspoons vanilla flavouring
800g caster sugar
Using a heavy-based pan, bring the milk slowly to the boil then add the sugar and the butter. Lower the heat and stir gently until the butter melts and the sugar dissolves. Turn up the heat and bring contents to the boil, then cover the pan and continue to boil the liquid for 2 minutes.
Next stage: remove the lid from the pan but continue to boil the mixture steadily for a further 10-15 minutes, stirring occasionally. Use a teaspoon to take a little of the mixture from the pan, then drop this into a cup of cold water. If you can roll the mixture into a small ball, between your thumb and finger, it's ready to be removed from the heat. Stir in the vanilla flavouring and leave the mixture to cool for 5 minutes.
After 5 minutes, beat the fudge mixture so that it is thick and beginning to lose its glossy lustre, then scrape it into a buttered 18cm square tin and allow it to cool. Once the fudge has cooled, mark it into squares on the surface; when it has set firm in the tin, use a sharp knife to cut it into the marked squares, then store in an airtight container.
This recipe can be varied by omitting the vanilla and adding 100g plain chocolate and 50g clear honey to 450g sugar, 150g butter and 150ml milk. Place all these ingredients together in the heavy-based pan and continue as recipe for milk fudge. For another variation, add 50g each of chopped nuts and seedless raisins to the mixture following the 5 minute cooling period.
You might also like...
I am interested in starting up a sweet making business for resale at boot fares and farmers markets.However I am having problems finding out how to increase the shelf-life of some of the products e.g. by adding invert sugar to truffles etcWhat about all the other products how do I ensure they have a longer shelf life?Do you have any tips or can you suggest where I would find such information please.
Jaidria
- 11-Jul-14 @ 10:07 AM
Hi,your recipe is very nice. I like this method.Thank you.
laxmi
- 11-Aug-11 @ 11:37 AM