Exciting Stir Fries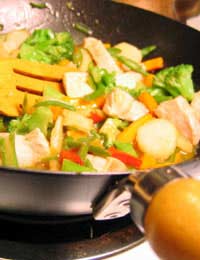 Stir fries are some of our favourite take-way dishes – if you're learning to cook then it's good to master this classic fast food because it's simple to make at home, healthier and often much tastier!
Tips For Perfect Stir-Fries
Cooking a stir fry is straightforward, because most of the effort goes into the preparation stage, so allowing enough time for this is key to cooking the perfect fast lunch or dinner.
Begin by ensuring you've prepared all your ingredients, right down to opening sauce bottles or taking the tops off spice jars as speed is important when you're ready to cook and stopping to cut an ingredient up or open a difficult container can lead to ingredients already in the wok getting overcooked.
If you've chosen a recipe with meat, chicken or fish, cook that ingredient first until it's about 80 per cent ready, then take it out of the pan put it in a bowl and set it aside. Go on to cook the vegetables and when they are done, add the meat back in for the final adjustment to seasoning. This ensures the meat doesn't get overcooked and gives it a separate flavour to the vegetables because they haven't been cooked together.
Ensure all ingredients are roughly the same size: but bear in mind that density has an effect too. The idea is to try and get all ingredients to around bite sized, so they can easily be eaten with chopsticks, and to cook the denser ingredients first, as they take longer. Carrots and water chestnuts take a while to cook, but leafy greens, cut to the same size, cook in a trice so you add them to the pan in the right order to ensure they are all tender.
Whether you are using a wok or large frying pan, let it heat for three minutes before adding sunflower or another vegetable oil (but not olive oil which has a lower smoking temperature and can taste scorched) and allowing that to heat for a minute before adding any ingredients.
The secret of stir-fry is in the name – you have to stir the ingredients constantly with a spatula or specialist implement to keep them moving and mix them together.
Serve stir-fries immediately or they will cool down fast and become unappetising.
Kung Pao Chicken
This is a family favourite, and simple to make at home. It's unusual in that you don't take the meat out of the dish and add it again at the end.
Ingredients
4 diced chicken breasts
4 teaspoons cornflour
4 teaspoons soy sauce
2 tablespoons vinegar
2 tablespoons corn oil
75 grams salted peanuts
2 thinly sliced spring onions
100 ml chicken stock
Method
Begin by dividing the marinade ingredients in two separate bowls. In each bowl put 2 teaspoons each of soy sauce and cornflour and a tablespoon of vinegar. Stir both well and add the chicken to one bowl, stirring well to coat. Leave to marinate for thirty minutes.
Heat wok or large frying pan over medium heat for three minutes, add one tablespoon corn oil and heat for a minute. Add the peanuts and stir fry for about one minute. Remove them and leave to one side.
Increase heat to high, add another tablespoon of oil, tip in the chicken and stir for three minutes. Tip in the chopped onion and stir fry for another minute, before adding peanuts and stirring for a minute.
Add the chicken stock, stir the remaining bowl of marinade well and add that too – stir it until the sauce thickens.
Serve immediately with plain white rice or jasmine rice.
Tangy Tofu Stir-Fry
This is a good recipe for those who don't eat meat. Served to meat eaters they will often not notice that there's no meat in the dish!
Ingredients
2 teaspoons sunflower oil
2 minced garlic cloves
1 teaspoon galangal powder
1 tin asparagus spears
150 grams thinly slice courgettes
150 grams thinly sliced carrots
1 finely sliced red onion
150 grams tofu pieces (from a vacuum pack or rehydrated if dried)
Juice of one lime
1 tablespoon maple syrup
Chopped mint
Garnish
Finely sliced red or orange pepper.
Method
Blend the maple syrup, lime juice and mint.
Heat pan over medium heat, then add oil and add garlic and galangal.
Add asparagus and stir-fry for three minutes before adding carrots, stir fry for two minutes and add courgettes. Continue to stir-fry for two minutes before adding onion and tofu.
Add mint, syrup and lime mix to pan and cook for a further two minutes.
Serve immediately over rice noodles with pepper piled high on top to make a bright contrast.
You might also like...