Fast Fish Recipes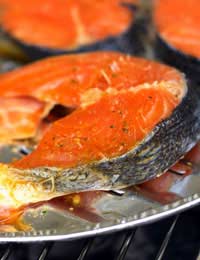 Fast Fish Recipes
These recipes are not exclusively for fast swimmers; your young tiddlers may enjoy them as much as the older omega 3 fans. Fish can provide a healthy and highly nutritious meal without too much fiddling about. Oily fish (like herring in the first recipe) are a source of important omega 3 fatty acids.
Herrings in Oatmeal
This fish cooks very quickly so plan the accompaniments first! Crusty bread and a simple salad work well with it as a supper dish, or serve with brown bread and butter for a breakfast treat.
Ingredients to serve 4
4 medium herrings (or 4 small trout) scaled, cleaned and backbones removed
100g coarse oatmeal
3-4 tablespoons milk
125g butter
Salt and pepper to season and lemon wedges to serve with the fish
Sprinkle a little sea salt and black pepper on the inside of each fish then close them back up and dip them in the milk. Place the oatmeal on a plate and coat each fish thoroughly with oatmeal-you may need to pack it on firmly.
Melt the butter in a heavy-based pan over gentle heat.
Add the fish to the melted butter and fry them gently for about 5 minutes each side (maybe less if they're small, or more if larger.) That's it! Serve on individual plates with lemon wedges, or, add a little of the butter from the pan to each herring for extra glaze and mop up with bread...Yummy.
Tuna and Corn Fishcakes
This makes another simple-but quick and tasty-supper dish for 4.
Ingredients
200g can tuna fish
115g can (or frozen) sweetcorn
300g mashed potato
50g breadcrumbs
You will need salt and pepper to season, some chopped fresh parsley and lemon wedges to garnish and vegetables of your choice to go with the fishcakes.
Put the mashed potato, drained tuna and sweetcorn all together in a bowl and stir. Add salt and pepper to taste then shape 8 fishcakes by hand.
Spread the breadcrumbs evenly on a plate and coat each fishcake-one at a time-to ensure they are covered on both sides with the breadcrumbs. Now, simply place the fishcakes under a moderately hot grill, turning once, cook until they become crisp and a golden brown colour and they are ready to serve.
Fish Steaks with Attitude
The attitude for these fish steaks comes from the simple but memorable mustard sauce they are served with. White meaty fish like turbot, halibut and cod are ideal steaks for this recipe. Allow one steak (2.5cm thick)per person.
Ingredients for 4
4 fish steaks
50g butter
4 tablespoons Dijon mustard
1 tablespoon white wine vinegar
300ml double cream
half a teaspoon of caster sugar
You will also need salt and pepper to season, lemon wedges to serve with the fish and whatever vegetables you fancy to go with the steaks. Baked potato, baby carrots and peas turn this into a more substantial meal, but it is also good served with a side salad and bread and butter.
Melt the butter and brush this over both sides of the fish steaks before placing them on a rack in the grill pan, about 10cm away from the hot part of a preheated grill. The steaks should take about 4 minutes each side to cook.
As the fish steaks are cooking, combine the mustard, cream, sugar and white wine vinegar together in a saucepan. Whisk constantly as the sauce comes to the boil then simmer and continue whisking until the sauce thickens. Remove from heat.
Serve the fish steaks on warmed plates and spoon the sauce over each steak with lemon wedges on the side. This is such a simple dish but the sauce transforms it completely with its creamy kick!
You might also like...