Vegetarian Meals in no Time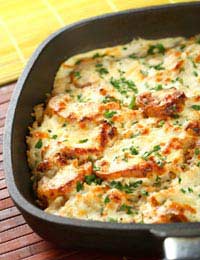 Vegetarian Meals in no Time
These simple dishes make a change from salads, vegetable risottos, stir-fry or roasted vegetables and make ideal supper dishes either on their own, or as accompaniments.
Spuds in a Pan for 4
Ingredients
2 onions, peeled and thinly sliced
450g potatoes, peeled and thinly sliced
2 tablespoons vegetable oil
100g grated cheddar cheese
1 teaspoon each of dried rosemary and parsley
Salt and pepper to season
Heat the oil in shallow pan over moderate heat then gently fry the onion until it becomes translucent but does not start to brown. Remove from pan and drain on absorbent kitchen paper. Now place a layer of the (uncooked) potatoes in the bottom of the pan, sprinkle some rosemary and thyme, salt and pepper over the layer, then add some of the onions and grated cheese. Continue to add layers until all the potatoes, onions and cheese have been used up-season between layers and finish with grated cheese on top.
Cover the pan with a lid and cook gently for 30 minutes, less if the potatoes are cooked through. Remove the lid and place the pan under a hot grill to brown and bubble the top cheese layer. Serve straight from the pan as is, or with a tomato salad or cooked mixed beans.
Stuffed Marrow Rings
Marrows are reasonably priced, but often overlooked. They can provide a substantial supper dish and are extremely versatile vegetables. Try adapting this to suit your tastes.
Ingredients for 4. Preheat the oven to 190c.
1 marrow about 900g in weight
75g butter
50g mushrooms
2 tablespoons fresh chopped parsley
1 small can cannellini beans, drained
1 small can red kidney beans, drained
2-3 tablespoons fresh breadcrumbs
Salt and pepper to season
Wash the marrow then pat dry with absorbent kitchen paper. Cut the marrow into rings about 5cm thick and spoon out the seeds. (Peel can be left on if the vegetable is very tender, but best removed otherwise.) Place the marrow rings singly in the base of a buttered ovenproof dish. Sprinkle with salt and pepper.
Melt the butter in a pan and gently cook the mushrooms then add the parsley, a little salt and pepper, followed by the breadcrumbs and beans. Stir the ingredients together to make a firm stuffing. Add more breadcrumbs if required.
Spoon the stuffing mixture into the marrow rings and cover the dish tightly (with foil or a lid) so that the vegetable cooks in its own steam. Place just above centre of hot oven and bake for approximately 30 minutes, so that the marrow is cooked but not too soft.
Serve immediately. This goes really well with a cheese or tomato sauce. Marrow can also be stuffed with rice and vegetable mixture, vegetable curry, nuts and beans and definitely a little chilli sauce! Best to avoid watery ingredients because marrow has a high water content itself.
Parsnip Cakes
Large parsnips are ideal for this recipe; carrot or swede can be used instead, if preferred.
Ingredients
4 large parsnips, carrots or swede
50g dry breadcrumbs
1 egg
1 teaspoon flour
Dash of milk mixed with the breadcrumbs
Salt and pepper to season
Scrub and cook the root vegetables until tender, then drain and mash them. Add the flour to this mash, along with the beaten egg and salt and pepper. Make round cakes about 7-8cm wide with the mixture (use a little flour on your hands if easier.) Next, dip each cake in the milk and breadcrumb combination and fry in a little butter or oil.
When the cakes are brown and beginning to crisp slightly on either side, they are ready to serve. These taste great with a salad or couscous. Increase the quantities to serve the vegetable cakes on their own.
You might also like...