Meat Dishes in Minutes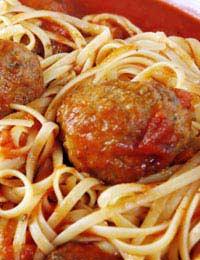 Meat Dishes in Minutes
There are times when we need to prepare meat dishes in a hurry that do not necessarily involve buying the most expensive cuts of meat. These tried and tested recipes should give some ideas and solutions to making delicious meat dishes in minutes.
Meatballs with Tagliatelle-Serves 4
This is a real favourite at home! No nonsense sustenance, attractively presented, without taking hours to prepare or costing a fortune. Celery and mushrooms can be added to the sauce if you have some, or if you fancy a spicy version, omit the cheese, add chilli sauce to the meatball mixture and serve with rice instead. The tagliatelle dish can also be served with a green salad and more grated parmesan if you wish.
Ingredients
500g lean minced beef
50g breadcrumbs
2 cloves crushed garlic
1 large onion, peeled and chopped
3 teaspoons dried mixed herbs or fresh parsley, oregano and thyme
50g grated Parmesan
2-3 tablespoons milk
4 tablespoons olive oil<.li>
400g tin chopped tomatoes<.li>
400g tagliatelle<.li>
25g butter
Use half the oil in a frying pan-gently cook the onion until translucent (with celery and mushrooms if used) add the garlic and herbs. Stir in the chopped tomatoes then season with salt and pepper. Simmer gently for 10 minutes then keep the sauce warm.
Put the minced beef in a bowl and then break it up with a wooden spoon-it will become a sticky paste. Stir in the breadcrumbs, cheese and milk, to make a firmer paste. With a little flour on your hands, shape the meat mixture into 12 balls.
Heat the remaining olive oil in another, larger, pan and fry the meatballs for 5-6 minutes. Now pour the tomato sauce over the meatballs, cover the pan with a lid and cook the dish over a low heat for 20 minutes-stirring occasionally. Don't let the sauce dry-rinse the inside of the used tomato tin with a little hot water and add this to the pan if necessary. (Saves waste!)
Follow the instructions for cooking the tagliatelle, then drain it. Put the tagliatelle into a warmed serving dish and dot with the butter. Spoon the meatball mixture and sauce over the pasta and serve.
Stir-Fried Chicken for 4
This can be adapted to suit what you have available. Ideally, fresh Asian greens would be used, but improvisation is the key. Cashew nuts make a good crunchy addition to this dish.
Ingredients
4 boneless, skinless, chicken breasts, cut into thin strips
2 tablespoons groundnut oil
1 garlic clove, peeled and crushed
Chinese 5 spice or similar-garlic, ginger and chilli go well
4 tablespoons soy sauce
2 tablespoons balsamic vinegar
Tinned water chestnuts, bean sprouts or other Chinese vegetable
Spring onions, carrot, mushrooms, celery, baby corns, green beans, mange tout-any or all of these are suitable for stir-frying. See what vegetables (not potatoes) you have available. They will need to be finely sliced.
Rice; get this cooking before the stir-fry unless you're using microwave rice.
Heat the oil in a large frying pan or wok to medium/high. Add the chicken strips and keep them moving in the oil to cook them evenly. Next, add the garlic and spices to combine with the chicken, and keep the food moving continuously. About 30 seconds later, add the vegetables to the stir-fry and move them around to coat them with the oil and seasoning until they are lightly cooked. Stir-fried vegetables should be firm.
Last add the soy sauce and balsamic vinegar. Stir all the ingredients in the pan together and turn off the heat. Serve immediately with the cooked rice.
Lamb in a Pan for 4
Ingredients
2 tablespoons olive oil
2 tablespoons tomato puree
500g boneless lamb chunks
4 cloves garlic peeled and crushed
150ml red wine
150ml vegetable stock
50g pitted black olives
Fresh thyme or 2 teaspoons dried
Parsley to garnish
Heat the oil in a frying pan and add the lamb chunks. Stir them for about 5 minutes until they are browned all over, then, add the tomato puree, garlic and thyme. Pour in the stock and red wine and bring the mixture to the boil. Cover and simmer for about 30 minutes-when the lamb should be tender. Remove lid for the last 10 minutes so that the sauce reduces slightly. Stir the olives in during the last 5 minutes. Garnish with chopped parsley and serve with mashed potatoes.
You might also like...