Learn to Cook Christmas!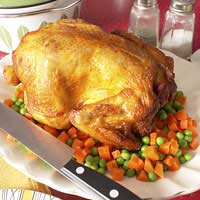 If you are scared of cooking for Christmas, think again! This set of simple but impressive recipes are easy to make and delicious to eat.
Simple Turkey
This recipe is based on a 9 kilo turkey which takes 4.5 hours to cook and a further 25-30 minutes standing time.
Ingredients
1 turkey
100 grams unsalted butter, melted with 50 ml olive oil
1 orange and 1 lemon
Salt and pepper
300 ml chicken stock
Method
Ensure the turkey is thoroughly defrosted. Preheat the oven to 325ºF (165ºC) and set the shelf as low as possible.
If necessary, remove turkey neck and giblets from the body cavity, rinse the bird inside and out and pat dry with paper towels.
Set the turkey, breast side down, on a rack or trivet in your roasting dish. Rub the skin with the butter and oil mix and then halve the orange and lemon. Gently squeeze half of each fruit over the skin before placing the squeezed and un-squeezed halves into the body cavity – this adds a delicious moistness to the meat. Season.
Pour about half the stock into the dish and baste the turkey every thirty minutes during cooking time. Tent some baking foil over the bird and cook for two and a half hours with the foil on, before removing it for the last two hours of cooking. Add more stock as necessary to the base of the pan – this means the bird is re-moistened with its own cooking juices throughout the process. Ensure the bird is cooked by checking that a meat thermometer inserted in the thickest area of the thigh reaches 180ºF/ 80ºC. Leave to stand for 25 minutes before carving.
Turkey curry
This simple dish is the centrepiece of a great buffet and takes less than 30 minutes to prepare
Ingredients
15 ml sunflower oil
1 onion, peeled and sliced
2 tablespoons chicken Tikka curry paste
Garlic paste
200g leftover turkey, diced
100g basmati rice
300ml chicken stock
1 spring onion
Method
Heat the oil in a large frying pan or wok and fry the onion for five minutes. Pour the stock into the pan and add the curry paste, about a 1 cm or half teaspoon of garlic paste, turkey, rice and stock to the pan before covering and leaving to simmer for 25 minutes.
While it is cooking, finely slice the spring onion lengthways and put in a bowl of iced water to make curls and then get on with your side dishes
Alloo Jeera
1 kg waxy potatoes
2 tablespoons sunflower oil
2 tablespoons cumin seed
Half a tablespoon turmeric
1 tablespoon galangal
Salt, pepper and mustard seed
Peel potatoes and chunk to bite-sized before steaming until tender (around 15/20 minutes) then drain and keep warm. Heat the oil in a large frying pan and fry the herbs for a minute until fragrant. Add the potatoes and sauté, turning gently, until crisp. Season with salt, pepper and mustard seed and serve with curry.
Buffet salad
Peel and seed a cucumber then dice it. Press a clove of garlic into the mixture and stir with around 150ml of natural yoghurt and a pinch of dried cumin. Finely chop half a hot red pepper and another spring onion together and sprinkle on top.
To serve, lay out the buffet with naan bread, chapattis and mango chutney alongside the salad before bringing out the hot dishes. Just before you bring out the curry, shake dry the spring onion curls and sprinkle on top.
Christmas Pudding Sauce
Serves 6
This is fantastic served with high quality ice-cream. It has all the flavours of a steamed pudding and only takes minutes to make.
Ingredients
175 g sponge cake (make a vanilla sponge yourself or buy a pre-baked flan base)
75 g light brown sugar
100 ml Earl Grey tea
225 g raisins
Juice and zest of a large orange
50 ml brandy
200 ml top quality mincemeat
75 g crystallised fruit, finely sliced
Method
The night before you wish to serve the pudding, soak the raisins in the tea and brandy and leave the sponge cake out overnight so it dries out a little.
Next day, crumb the sponge by pulsing it in a food processor or breaking it up with your fingers.
Gently heat the raisins, which will have absorbed the liquid, in a medium-sized saucepan with the orange juice and zest and the sugar. When the mixture is hot and the sugar is fully dissolved, add the mincemeat and stir gently until heated through. Then turn the crumbs into the pan and stir through the other ingredients. You are aiming for a semi-liquid sauce that has all the richness of a Christmas pudding, so you may need to add more orange juice to keep it liquid.
Place two scoops of vanilla ice cream on each of six flat plates with a small gap between the scoops. If you like the tradition of silver trinkets in a pudding, turn one scoop upside down as you ball it, and press a cling-film wrapped silver charm into the bottom before turning it out onto the plate. Make sure your guests know they each have a charm in their dessert so they don't break their teeth!
Swirl the sauce between the scoops to make a figure S and sprinkle it with the crystallised fruit. Serve swiftly as the warm sauce will melt the ice-cream.
LEARN COOKING IS FOR SALE.
This website is for sale [more info].
You might also like...