Cooking Spices and their Uses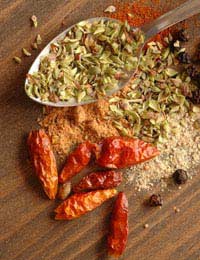 With their vibrant colours, distinctive aromas and flavours and their food preserving qualities; cooking spices have a lot to offer. You don't have to have exotic tastes to appreciate the types of spices that have been in use for hundreds of years. Pepper, mustard and cloves are among the often overlooked classics; spices are not only for curries!
Spices Defined
The spice trade is one of the oldest in the world. Traders in the profession of buying and selling spices gained considerable wealth and power over the years, and epic voyages of discovery were inspired by the trade in spices around the world.
This group of rather menacing and mysterious-looking substances includes, more or less, most varieties of aromatic vegetables that are used with food. Pods, seeds, fragrant barks, gnarled roots, flowers and berries are just a few of the forms they take; don't be put off by their Halloween looks-they are easily tamed.
Spices are best bought whole as they keep longer that way and lose less of their taste and aroma (particularly if kept in metal containers.) However, ground spices are sold in convenient storage jars and packets, and ready to use. There is something therapeutic about using a pestle and mortar to grind your own selection of spices, though. Definitely kitchen wizardry!
Below is our quick guide to popular cooking spices:
Allspice...
Is not a mixture! It is a dried berry that comes from a West Indian tree and is sometimes known as pimento. Great in mulled wines, Christmas pudding and marinades.
Cardamom...
Is one of the more expensive and most ancient spices. Whole pods are the best buy in order to preserve the fragrance and flavour, although the seeds are sold ground or loose, too. Used in curries, rice dishes (pilau) mulled wines, some cakes and biscuits and some pickles, particularly with pickled herrings.
Cloves...
Are the immature flower buds of an Indonesian tree. They have a strong pungent smell and, if bought whole, are easier to grind in a coffee grinder than with pestle and mortar. Commonly used for studding joints of ham and pork, they also add warmth and unique flavour to mulled wines, pickles and curries.
For 1 pint of home-made bread sauce, I always stick two whole cloves into an onion and add this, with a bay leaf, to the milk for the sauce. Bring it to the boil then remove milk pan from the heat and leave the cloves and bay leaf to do their thing for about 15 minutes. Add 75g breadcrumbs and 25g butter, cook gently for another 15 minutes, then remove the clove-studded onion and bay leaf. Fantastic.
Cumin...
From India, Africa and the Americas, has a slightly bitter taste and yet it smells spicy sweet. Used in curry powders, tasty with grilled lamb, rice dishes, beans (chilli con carne) chutneys and cakes. It is also burned with woods during the smoking process of some cheeses and meats.
Galangal...
is a root and member of the ginger family. The hot, peppery taste is recognisable in curry, soups and stocks. Ginger is used peeled and grated, or thinly sliced, in marinades, biscuits, and numerous Chinese and Indian dishes.
Garam Masala...
Is sold as a mixture of spices for use in curry dishes. (Garam means hot and Masala, spice.) If you like to cook spicy dishes, this is a chance to create your own blends. A simple home-made garam masala will taste extra special and can be as hot and spicy as you want. The following basic mixture can be adapted to suit your taste:
50g each of coriander seeds, black peppercorns and cumin seeds
A dozen whole cloves
20 cardamom seeds
20g ground cinnamon-this gives a sweet fragrance to the mix
Other possible additions include bay leaf, fennel, fenugreek. Grind all the ingredients- excluding the ready ground cinnamon-together in a coffee grinder and use as required. Store your garam masala in a cool, dark airtight container for up to one month.
Mustard...
Is one of the most used, but often taken for granted, spicy condiments. The flavour comes from small seeds in the pods of the plant and can be white, brown or black. Mustard was once so popular in England it was grown extensively in Lincolnshire and Yorkshire (black mustard) and in Cambridgeshire and Essex (white mustard.) The white seeds especially have been used for centuries as a preservative and in pickling.
Paprika...
Has a number of different varieties, both hot and sweet. They add a rich deep colour to dishes and good flavour. Particularly popular is Hungarian paprika; used in goulash. Often used in rice dishes, seafood and fish dishes.
Spices are an essential addition to the cupboard of serious cooks!
You might also like...