Packets, Tins and Jars to Have in your Cupboard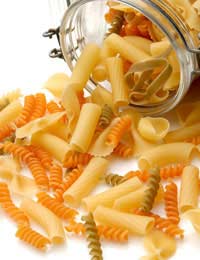 Packets, Tins and Jars to Have in Your Cupboard
In an ideal world, some magical creatures would clean and tidy my store cupboard and keep everything in chronological order so nothing was ever left, forgotten, or past the use by date. In the real world that is my kitchen, cardboard crumbles, tatty tins and darkly dubious jars lurk in the unchartered territory known as 'the back of the cupboard'.
Why Store Anything?
If we didn't keep a supply of general food related thingies in the cupboard, we would probably have to food shop at least once a day, there would never be anything to use for a hastily thrown together meal and the cat would leave home.
The whole idea of having a store cupboard is an ancient one; to hunt, harvest and gather the various foodstuffs in season, then store them in preparation for long winter months or times of shortage. The cavewomen would cook, preserve and organise the fires while the cavemen went out clubbing...No change there, then...
Before the days of freezers and refrigerators, convenience stores and home delivery, store cupboards were about survival.
Packets of Useful Things
To plan ahead-and hopefully not run out of things-think about what you and your family eat in an average week, then divide it into categories of packets, tins and jars. To save money, buy basic cupboard fillers when they're on offer in the shops.
Tea, cereals, rice, pasta, noodles, flours, sugar, stock cubes and convenience packaged foods are among the most useful packet goods to keep at home. Pulses, seeds, dried fruits, packet mixes (like stuffing and soups) and jelly, coffee beans and cocoa powder are other good basics to keep in stock. A packet of suet for comfort puddings and a couple of cartons of UHT milk and coconut milk are useful, too. If you regularly bake bread, yeast would be on your list. You may want to keep a supply of dried herbs and ground spices in packets. Although fresh herbs are best, if you don't grow them yourself it makes sense to have a ready supply in the cupboard. Some dried mustard powder is another useful basic to have in the cupboard.
Tins to Keep
Tomatoes! If you always have tinned tomatoes available, a meal can be found. Whole, chopped, pureed, some or all, it's up to you. Keep a stock of goods like tinned tuna and other fish, crab, beans, vegetables, condensed soup and a tin or two of meat and you'll never be short of something to create a meal with. Tinned fruits and rice puddings can keep some family members happy when there's no home-cooked ready. A tin of golden syrup and some condensed milk is advisable if you're an impulsive, sweet-toothed, pudding-maker!
Jars for the Cupboard
Olives are top of my list, closely followed by more mustard and various pickled things (edible, not art) with delectable jars of peppers, artichokes and anchovies for special occasions. Instant coffee is another essential store cupboard jar. To help parents cope with moments of disbelief-when teenagers and friends' (bottomless pits) need yet more food to aid their metamorphosis, a couple of sauces to go with the packet pasta can be useful.
Jams and similar conserves, as well as some good honey, definitely have a place in the cupboard. Just in case you have to make that emergency sponge pudding...or something similar. Honey is a great sweetener and can be used to make some quick puddings, too.
Summing Up
Store cupboards are the HQ of the kitchen, so stock according to your needs and preferences. The general idea of a well-stocked cupboard is to be able to feed people without having to go shopping! Keeping a few of everything means you're less likely to run out of essentials, too.
You might also like...
A superb article (although I'd disagree with you on the olives!).With freezers we have so many more possibilities for keeping food now, but in the old days it was down to what you had in the larder, and people really did keep their larders stocked. It's an idea that shouldn't have to go out of fashion.
Grace
- 10-Oct-12 @ 1:18 PM