Herbs in the Kitchen Cupboard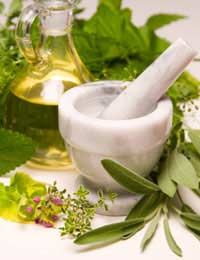 Herbs in the Kitchen Cupboard
Reliable but inspirational; that stalwart supply of herbs and spices in the cook's cupboard! Sometimes we know exactly which herbs to use, at other times a little pondering and: 'What ingredient shall I put in this dish to add something extra?' can be answered simply by looking at the choice in our cupboards.
Herbs for Keeps
Whether you grow and dry your own herbs or buy them already dried, once in the depths of your kitchen cupboard, they should be kept in airtight containers and out of the light. Although the choice of herbs used is, to some extent, a matter of personal choice, it does help to have a good selection of basics for the dishes that you are most likely to eat on a regular basis.
For fish-eating families the 'must have' herbs would include dill and parsley at least. In addition to these and especially for use with oily fish, there are several herbs that are good at multi-tasking, like basil, fennel, marjoram, rosemary, sage, tarragon and thyme.
If you eat pasta regularly, basil, oregano, parsley and rosemary would most likely be among your favourite herbs.
In stew and casserole weather, a good bouquet garni is the business. Sold ready mixed in things that look like tea bags, bouquet garni commonly contains a mixture of herbs like bay, parsley, thyme and marjoram. Like tea bags; once it has done its job, the herb bag can be removed from the pot and disposed of.
For roast meats the most traditional choices are: mint for the sauce to go with lamb and rosemary to flavour the meat; sage is a popular choice when making stuffing and goes with pork, chicken and duck especially well; thyme goes with roast pork, veal and poultry in particular.
General Guide to Herbs
Herbs are generally considered as a group of seed-bearing culinary plants that don't have woody stems. The leaves are the main part used in cooking. Chives, garlic and horseradish are different because the underground bulb of the garlic and chive plant is the part most used and the root of horseradish is an ingredient in cold sauces.
With more dried herbs available to us, this list is by no means exhaustive. Some supermarkets sell live herbs that can be kept for a few days and provide you with a supply of fresh herbs. These are very useful if you decide to have a cook up of your favourite dishes for the freezer and like to use fresh herbs. The following herbs are those most often grown and used in the UK.
Basil-used with tomato and pasta dishes, oily fish, roast meats if you like it
Bay-used in bouquet garni, pates and terrines
Chervil-garnish, salads, herb butters, goes with fish and shellfish
Chives-egg and potato dishes, onion-flavoured garnish
Dill-fish dishes, garnishes, use to flavour sauces and in pickles
Fennel-feathery leaves have an aniseed taste that goes well with fish and in stuffing
Garlic-stews, tomato dishes, dressings and herb butters
Marjoram-oily fish, roast poultry, tomato dishes
Mint-with lamb, new potatoes, peas, yoghurt as an accompaniment to spicy dishes
Parsley-fish, garnish, sauces, herb butter
Rosemary-lamb, grilled fish, bouquet garni
Sage-stuffing, oily fish
Tarragon-fish, pickling, salads, herb butter
Thyme-stuffing, bouquet garni, roast white meats, oily fish
From Garden to Cupboard
Harvest the herbs you have available and start to dry them as soon as possible. Bunches of herb leaves like; bay, oregano, rosemary, sage and thyme can be hung by the stems to dry in a dark but dry and well-ventilated place. Once the leaves feel dry and brittle remove them from the stems and store in suitable containers (don't forget to label them.)
The seed heads of fennel can be dried in a similar way to bunches of fresh herbs; when you hang the plant upside down pop a paper bag over the head to catch the seeds in when the plant dries.
Most of the herbs used in cooking can also be frozen. Wash and chop the leaves, then place them in ice-cube trays, cover with water and freeze. When you need to use some, just take an ice cube and add to the pot as you cook. Again-label them so you know which is which!
Home-dried herbs will usually keep for about a year in the right conditions. Check the use-by- dates on bought herbs, particularly if you buy organic.
Summary
Experiment with the edible herbs that you like; you will find that some go really well with certain dishes and may even discover a new combination!
You might also like...
Dried herbs are fine, but nothing beats fresh. You can harvest as needed during the summer, then dry the remainder at the end of the season so none goes to waste and you have enough to last until the next year. It's much cheaper than buying from the supermarket and you'll have the herbs you need on hand - and know exactly where they came from and how they were grown.
Wendy
- 6-Jun-12 @ 11:12 AM