How to Make and Serve Dumplings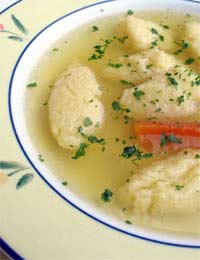 Served as a traditional accompaniment to stews, savoury dumplings can finish off a meal to perfection.
They can be plain, mixed with herbs or seeds, crab or bacon. Not everyone likes them-particularly if their only experience of dumplings is of undercooked, slimy things that resemble toads. In Devon, the nickname for savoury dumplings is 'natterjack' which is a type of toad; maybe something to do with the shape of dumplings, but definitely nothing else!
Making 12 Plain Dumplings
175g self-raising flour, or, plain flour with 1 teaspoon of baking powder
75g shredded suet
pinch of salt
cold water
Sieve the flour and salt into a bowl. If you are using plain flour and baking powder, sieve them together at this stage.
Next, add the suet to the bowl and mix thoroughly. If you are using fresh suet, remove the skin and grate it as finely as possible. Or, because fresh suet can be very sticky, chop it with a little of the flour.
Slowly stir in some cold water, a dessert spoonful at a time, to make a dough that feels stretchy and light. It should leave the bowl clean when you move the dough around. Turn the dough out onto a lightly floured surface and, with floury hands, knead it into a ball shape.
Now put the dough on a cold plate and cover it with a bowl, then leave it to rest for about 10 minutes.
Divide the dough into 12 pieces and roll them into balls. They are now ready to add to your stew. Drop the dough balls into the bubbling liquid about 15 minutes before the meat in the stew has finished cooking and keep the lid off. Don't panic if they sink! Give them a few minutes and they will rise to the top of the stew, swollen and full of flavour. Alternatively, preheat the oven to 200C and finish the dish off in there, without a lid on, for 30 minutes. The dumplings will turn a golden brown and form crusty tops.
Serve the dumplings (use a slotted spoon to catch them) and stew straight from the dish if possible-the sight of delicious meat and vegetables, surrounded by golden dumplings bobbing about in a rich gravy is both impressive and appetising!
Herby Dumplings
Use the same quantities and ingredients as the plain dumpling recipe to make these herby versions. When mixing the dough, simply add 1 teaspoon of dried mixed herbs and 2 tablespoons of fresh chopped parsley to it, before adding the water.
These dumplings taste great in any stew, and can be adapted to suit vegetarians by using vegetarian suet.
Caraway Dumplings
175g self-raising flour
75g shredded suet
2 teaspoons caraway seeds
pinch of salt
Sieve the flour and salt as before then add the shredded suet and caraway seeds. Gradually add the cold water to form a dough and follow the method used in the first recipe for plain dumplings.
Divide the dough into balls then add to either chicken, pork or venison stews for the last 30 minutes of cooking. Serve straight from the dish.
Bacon dumplings
Prepare the suet and flour as before, but add crispy cooked bacon pieces to the dough before adding the cold water. These taste wonderful with sausage casserole or braised liver.
Crab Dumplings
100g white crab meat (canned is fine)
100g white breadcrumbs
2 tablespoons double cream
3 egg yolks
season with a little grated nutmeg, salt and pepper
Thoroughly mix the breadcrumbs with the double cream and egg yolks then season with salt and pepper and a pinch of grated nutmeg. Add the crabmeat and mix these ingredients together before chilling them in the fridge for about an hour.
When the dumplings are set they can be shaped into balls and cooked separately in 1 pint of fish stock/boiling water, for about 10 minutes, or added to a fish stew. These crab dumplings can turn a fish soup, bisque or chowder into something extra special.
Dumplings are easy to make and can be cooked either in the liquid of stews and casseroles, towards the end of their cooking time, or in a separate pot of stock or boiling water. The main thing is that they are cooked through and light in texture.
Served straight from the cooking dish, dumplings are the crowns on many savoury dishes.
Reader's Tip
A reader has sent in her Auntie Sheila's dumpling recipe she says is "really nice and absolutely always successful". This recipe doesn't use suet, we've not tried it ourselves yet, so let us know what you think.
Ingredients
4oz (or 100g) self raising flour
2oz (or 50g) margarine (I use Waitrose olive spread)
Teaspoon of mixed herbs or parsley or both (I use 'erbs de provence from Lidl)
Salt and pepper
Water to mix to a soft dough
Mix together flour and margarine together until mixture resembles breadcrumbs. Roll into balls and drop into stew, then replace the lid and cook for approx 20 mins or 30 mins if huge. Do not overcook
You might also like...