Using a Slow Cooker for Casseroles and Stews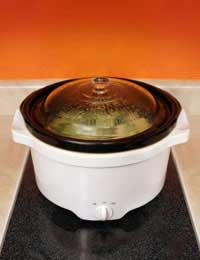 Slow cooking is economical in more ways than one: slow cookers use little power, so are cheap to run; less expensive cuts of meat can be used for this method of cooking; busy cooks can prepare their evening meal in the morning and leave it cooking throughout the day; slow cookers can provide a one-pot meal, so less equipment is used and less washing up created!
There are different styles of slow cooker available; choose the one that suits your lifestyle. For example, capacity can vary between 500ml and 7 litres, the inner ceramic pot (crock) and metal outer heater housing may be round (best suited to casseroles, stews and curries) or oval (should be able to cook roasts in it too.)
Whichever one you go for, one of the most important things is to make sure the slow cooker has two or more temperature settings, an auto cook setting and a hold setting that will maintain heat without the food drying out.
Read the guidelines for your make of slow cooker-and the manufacturer's recommendations- carefully. Remember that slow cookers require less liquid because the lid stays on throughout cooking, thus preventing vapour loss. Avoid removing the lid unnecessarily during cooking as it can take about 15 minutes to get the internal temperature back to where it was before!
Lamb Casserole
675g stewing lamb, chopped (scrag end or similar)
1 tablespoon olive oil
approximately 300ml vegetable or lamb stock
2 onions, peeled and sliced
4 carrots, washed, scraped and chopped
2 parsnips, washed, peeled and chopped
650g potatoes, peeled and sliced
1 tablespoon flour
1 teaspoon dried dill
Fry the onion in olive oil over gentle heat for 3-4 minutes (do this in a frying pan) then add the chopped meat to brown it off. Sprinkle the flour over this mixture and stir it well then remove from the heat.
Preheat the slow cooker to about 160C, or 'low' setting; check product guidelines first as they vary. Place a layer of sliced potatoes in the bottom of the crock, followed by a layer of carrots and parsnips, then the meat and onion mixture and so on until all the ingredients are used up. Sprinkle with dill and season with salt and pepper.
Heat the stock in a pan (this gives the casserole a hotter starting temperature) then pour the stock into the crock. There should be-at least-enough liquid to cover the base of the crock and the bottom layer of ingredients, but not so much that it is in danger of overflowing. Liquid can be reduced at the end of cooking time to make a thicker sauce, if necessary, but the contents of your slow cooker should never be allowed to dry out. Cover with the lid.
This dish needs to be cooked for at least 6 hours on a low setting to tenderise the meat and get the full flavour. Can be served on its own or with fresh greens.
Beef Carbonnade
675g chuck or braising steak
50 g thick cut bacon, diced
250ml brown ale
150ml beef stock
2 onions, peeled and sliced
100g button mushrooms
2 cloves of garlic, crushed
4 carrots, washed, scraped and cut into sticks
3 tablespoons each of oil, flour and tomato puree
2 teaspoons each of French mustard, brown sugar and vinegar
pinch of nutmeg, salt and pepper
Coat the beef with two thirds of the seasoned flour then fry in half the heated oil (in a frying pan) before transferring to the crock of a slow cooker preheated to 160C or low setting.
Next, fry the bacon, onions and garlic in the same pan you used for the beef but with the other half of the oil. Add the remaining flour and cook for 1 minute, stirring well. Now add this to the meat in the slow cooker.
Heat the beef stock in a saucepan and add the tomato puree, sugar, vinegar and French mustard. Stir well, then add the brown ale, nutmeg, salt and pepper.
Pour the stock mix over the meat and last of all, add the mushrooms and carrots before covering with the lid.
Cook on low heat for 6-8 hours.
Word of Warning!
The operating temperatures of slow cookers are insufficient to destroy potential toxins present in raw kidney beans and some others. Such food items must be pre-soaked and boiled for a minimum of 10 minutes (see product packet instructions) before use; to prevent poisoning.
You might also like...
There are many cookbooks with recipes for the slow cooker, although it seems that not so many people use them these days. Nor sure why as they're ideal – put everything in before you go to work and dinner's ready when you return! It couldn't be easier and having cooked for hours the meat is always wonderfully tender.
Ann
- 26-Sep-12 @ 1:30 PM