How to Cook Hotpots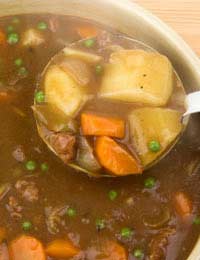 The name hotpot originated in the North of England. Pennine sheep were long-boned, so the local mutton chops were cooked upright in a tall earthenware container-the hotpot-and the middle filled with vegetables. A layer of oysters, topped with potatoes, finished off the dish. (Oysters were once very cheap and not regarded as delicacies.) This classic dish is another example of using what is locally available to feed the family.
Traditional Lancashire Hotpot
900g middle neck of lamb or 2 lamb chops (with tail bones in)per person
1 lamb's kidney per person
1 onion per chop, peeled and sliced
6 carrots, washed and sliced
700g potatoes
25g dripping or slug of olive oil
1 leek and 2 sticks of celery (optional)
plain flour
1 teaspoon caster sugar
salt and pepper
Trim the fat from the chops then coat them with seasoned flour and fry them in a hot pan that contains the melted dripping or oil. Brown the meat evenly on both sides.
If you have a long casserole dish that provides enough space to stand the chops, vertically, have a go! Otherwise, if juggling is not your strong point, arrange the chops so that the bones are pointing upwards in the centre of the dish. (It will look as though they're all rushing to the centre in a hokey cokey dance!) Now just plonk in the kidneys.
Fry the onions for a couple of minutes then pack them in around the chops. Next, add a layer of sliced carrots, then, another of onions and so on. Add leek and celery to the layers if wished and season with salt and pepper as you build. Finish with a layer of potato slices that overlap to give a tiled roof effect.
Over a moderate heat, sprinkle a little flour into the frying pan to soak up the meat juices. Gradually add some boiling water or stock and stir well to make basic gravy. Add the sugar and continue to stir until smooth and slightly thickened, then pour this into the casserole dish.
Cover the casserole with a lid and cook in a preheated oven (180C) for about 1 hour 45 minutes, then remove the lid and pop back in the oven for about half an hour to brown the top layer of potatoes. Serve with a little chopped parsley to garnish and plain boiled greens.
Hotpot Two
As with an Irish stew, the meat in a hotpot was traditionally lamb; if any other type of meat was used, it had no right to call itself either an Irish stew or a hotpot! However, this culinary conundrum prompted the creation of another, richer, version that is cooked in a similar way. It can be cooked in a preheated (180C) oven for about 2 hours if preferred.
900g of venison or 2 neck cutlets of venison per person
12 shallots or 3 onions, quartered
50g butter
6 rashers streaky bacon, chopped
2 cloves garlic, crushed
300ml dry red wine
1 teaspoonful of dried mixed herbs
2 tablespoons plain flour
Fry the chopped bacon in a flameproof dish until the fat runs, then, add the venison brown it quickly on both sides and remove it from the pan.
Melt the butter in the pan and add the shallots or onions. Cook until the onions soften but do not discolour.
Sprinkle the flour onto the ingredients and stir as the flour mixture (roux) browns.
Pour in the red wine and add the garlic and herbs, then the meat which should just be covered. Cover the pan with a lid and simmer gently for 1 and a half hours. Do not let the sauce run dry but add more red wine if needed, season with salt and pepper then continue to cook for about half an hour.
Check that the meat is tender before serving straight from the dish with mashed potatoes.
You might also like...