How to Cook Irish Stew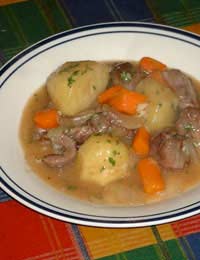 Traditional Irish stews are simple dishes of potatoes, onions and lamb, with no additional vegetables or pulses. (Irish stew is supposed to be a white stew, not a brown one.) There are different schools of thought about this though; some cooks insist that the traditional recipe included carrots and barley. It all tastes pretty good, so, if you want to include carrots and other goodies in your version, do it! There's no point sticking to a recipe you don't like.
Mutton (sheep aged more than one year) was used most often because it was readily available and believed to have more flavour than lamb. Mutton needs cooking for longer than lamb, at a low heat and with sufficient liquid, but should be not allowed to boil during cooking or some of the flavour is lost.
Two less fatty chops per person can be used instead of the middle neck. It is the bones and fat of the meat that makes the distinct flavour of Irish stew; also known as 'ballymaloe' or 'stobhach gaelach'.
Preheat oven to 170C.
700g middle neck of lamb, trimmed and cut into cutlets
450g potatoes, peeled and sliced
225g onions, peeled and sliced or left whole if small
300ml water
1 tablespoon fresh chopped parsley
1 teaspoon dried thyme
Salt and pepper to season
Trim fat and gristle from the cutlets then arrange layers of the meat and vegetables in a casserole dish, starting and ending with potatoes. Add seasoning and herbs to each layer then, finally, pour in the water and cover the casserole dish.
Now bake the stew in a preheated oven for about 2 hours, or half an hour less if lamb chops are used. Before serving, make sure the meat is tender and the vegetables are soft. Garnish with parsley and serve straight from the dish with boiled cabbage.
Traditional Irish Stew came about-as did most rural recipes-by using what was locally grown and therefore simplest to produce or buy. Sheep were reared in Ireland by peasants who also grew root vegetables to sustain themselves and their families. When Irish peasants left their homes because of the potato famine and emigrated to America and elsewhere, they took their traditional recipes with them. Since then, the Irish stew has evolved to suit local produce and modern tastes. Although beef is often used instead of lamb, where beef is more plentiful and therefore cheaper, this not really an Irish stew.
Irish Stew Two
For a less fatty-but still incredibly tasty-version of Irish stew, use a mixture of lamb fillet and best end of neck cutlets-about 800g in total. If you want to use pearl barley (about 1 tablespoon is enough) remember to add more stock because the barley soaks up liquid rather greedily.
3 large onions, peeled and chopped into chunks
2 carrots, scraped and chopped into chunks
1 turnip, peeled and chopped into chunks
1 leek, trimmed, washed and chopped
2 parsnips, peeled and chopped into chunks
900g whole floury potatoes, peeled and sliced into 1cm wide rounds
half a teaspoon dried thyme
40g plain flour, seasoned with salt and pepper
Coat the meat in seasoned flour and arrange it in a layer on the bottom of the casserole dish. On top of the meat layer, add a layer of the mixed chopped vegetables and continue building the stew in layers until all the ingredients have been used up. Sprinkle a little dried thyme and salt and pepper on each layer. Finish with a layer of potatoes on top.
Add 1 litre stock or water
Bake in a preheated oven (170C) for about 2 hours but add more stock, or water, if necessary. Can be served with dumplings and boiled cabbage.
You might also like...