How to Make Vegetarian Casseroles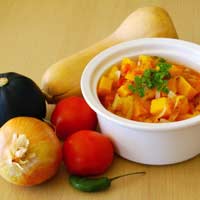 Winter vegetables of substance are ideal ingredients for vegetarian casseroles. Root vegetables, in particular, lend themselves to this method of slow cooking and the addition of pulses, like pearl barley and lentils, as well as kidney and haricot beans, provides added winter comfort. If using dried pulses and beans, take care to follow the instructions carefully as they will need soaking overnight and boiling before being suitable to use.
Winter Veggie Warmer
12 shallots or 3 quartered onions
4 carrots, cut into 2cm chunks
2 parsnips, cut into 2cm chunks
2 turnips, cut into 2cm chunks
1 swede, cut into 2cm chunks
2 cloves garlic, crushed
1.2 litres vegetable stock
2 tablespoons vegetable oil
1 teaspoon each of dried oregano and thyme
2 tablespoons plain flour
salt and pepper to season
Heat the oil in a flameproof pan and gently fry the onions until softened but not browned. Sprinkle the flour and dried herbs over the onions and stir well, then slowly add the vegetable stock to thicken the sauce. Season with salt and pepper.
Add all the other ingredients and mix them together. The casserole can now be cooked over a gentle heat on the hob for about 45 minutes, or placed in a preheated oven (180C) for 1 hour.
If using pearl barley, lentils and beans, add them to the casserole at the same time as the other vegetables, unless using canned beans, which will need less time. Serve hot straight from the pan with baked potatoes.
Pearl barley is simply barley with the bran removed to give it a lovely sheen. It's great for casseroles, stews, broths and you can even try it in a risotto.
This list is only one serving suggestion-use the vegetables you like in taste combinations that complement each other and consider colours, too. If colours are clashing and screaming at you from the supper dish it can ruin your appetite!
Med. Veg. Casserole with Salsify Mash
2 aubergines
1 red, 1 green, 1 yellow, pepper, de-seeded and finely diced
2 courgettes, washed and sliced into 2cm chunks
2 okra (ladies' fingers)
2 cloves garlic, crushed
2 onions, peeled and sliced
1 litre vegetable stock
2 tablespoons vegetable or olive oil
2 salsify roots
450g sweet potatoes
1 teaspoon dried mixed herbs or bouquet garni
1 tablespoon tomato puree
few drops of lemon juice
2 tablespoons plain flour
Wash and wipe dry the aubergine, then, slice it in half lengthways. Sprinkle the inside with a little salt and lemon juice and leave it while you prepare the other ingredients.
Heat the oil in a flameproof dish and gently fry the onions with the peppers to soften them. Add the flour and stir. After a couple of minutes add the courgettes, garlic and herbs and stir ingredients together, then season with salt and pepper and cook gently for about 2 minutes. Next, add the tomato puree, stir this in well.
Pat dry and slice the aubergine, lengthways again, then cut it into chunks. Add this to the casserole, along with the washed and sliced okra. Pour in the vegetable stock and bring the dish up to simmering point. Cover the pan and simmer gently for about 45 minutes, or, place in a preheated oven (180C) for about 1 hour.
While the casserole is cooking, peel and chop the sweet potatoes and salsify (use scorzonera if you don't find salsify.) Cook the sweet potatoes and salsify together in boiling water then mash them when cooked, as you would with ordinary potatoes. The salsify gives a unique oyster flavour to the mash, which complements the earthy aubergine taste.
Serve together when both dishes are ready.
You might also like...