The Perfect Fish Casserole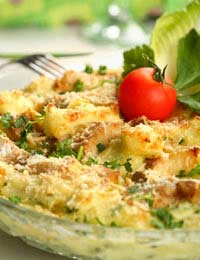 The Perfect Fish Casserole
Perfection takes time and effort; it doesn't necessarily mean a meal is complicated. The perfect fish casserole varies according to personal taste, but this recipe should appeal to everyone who likes fish as well as casseroles. I think it is a combination of the best of both.
Heavenly Fish Stew
This is worth doing well-use approximately 2 litres of the best homemade fish stock possible. The following ingredients should be enough to feed 10 hungry people and, although a casserole doesn't sound very grand, this one is special enough to share with (your best) friends on a cold winter evening with some decent wine... and maybe a few fishermen's tales.
Ingredients
The choice of which fish to use can be one of the things that puts people off trying more fish dishes ; try this recipe with equal amounts of hake, whiting, sea bream and catfish or dogfish. Avoid using oily fish like mackerel and trout as they are better suited to other fish dishes.
4-5kg of mixed skinless fish fillets-use the heads and trimmings for stock
1kg peeled prawns-use shells in stock
1kg mixed live cockles, mussels and clams, scrubbed
12 rashers rindless streaky bacon, cut into strips
2 large onions, peeled and chopped
4 tablespoons chopped fresh parsley
1 teaspoon chopped, fresh thyme
4 cloves garlic, peeled and crushed
500g skinned, seeded, chopped tomatoes
200ml dry vermouth or white wine
100-125ml extra virgin olive oil
Salt and pepper to season and fresh flat leaf parsley to garnish
Place all the scrubbed clams, mussels and cockles in a pan over high heat until the shells have opened. Strain the cooking juices and remove shells.
Fry the bacon in a large pan over medium heat until browned but not crisp. Drain on kitchen paper to remove any grease. Pour the olive oil into the large pan and gently fry the onion. Add the garlic, parsley and thyme, heat together for about 2 minutes then add the prepared tomatoes. Stir this combination together.
Next add the dry vermouth or white wine, increase heat slightly and let the ingredients bubble together for 1-2 minutes. Add your strained fish stock and stir well, then bring the contents of the pan to the boil. Reduce the heat, cover the pan with a lid and simmer for no more than 5 minutes.
Time to add the fish-first cut them into large, slightly more than bite-sized, chunks then pop them into the pan, without over-handling them. Add the cooked bacon, prawns, cockles, mussels and clams. Bring the stew back to the boil and simmer for 10 minutes more. Taste then add salt and pepper if needed.
If the pan you have used to cook the casserole in is flameproof and oven to tableware, serve it in that, garnished with a little flat leaf parsley. Otherwise, make sure the dish you intend to serve the casserole in is heated through thoroughly before putting the fish casserole in it.
Accompaniments may be as simple or as elaborate as you wish. Warm crusty bread and a light, green salad with vinaigrette go well with this meal for elegant simplicity. The colours, textures and aromas from the casserole shouldn't have to compete with 'busy' side dishes! If you fancy something a little more, though, serve the casserole with creamed or duchesse potatoes and peas or broccoli. Simple colours and smooth textures, without competing flavours, they go well with the fish without detracting from it.
You might also like...